Kerry Washington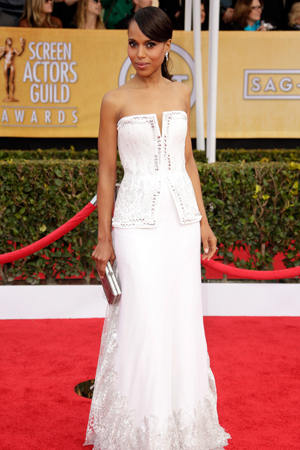 Whitney is all about Kerry Washington's Rodarte gown, thanks to its striking winter white and lace elements.
"I also loved that it was two pieces as opposed to the traditional dress," Whitney told SheKnows.
Naomi Watts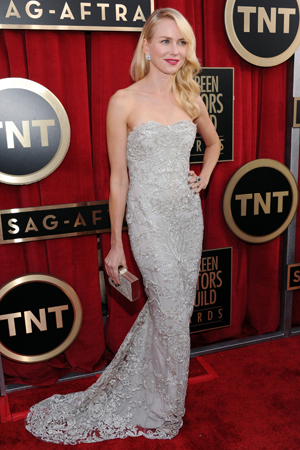 The Impossible star Naomi Watts looks, well, impossibly gorgeous in her white Marchesa gown, according to Whitney.
"Very classically beautiful!" the designer said. "Loved the femininity and softness of the dress."
Amanda Seyfried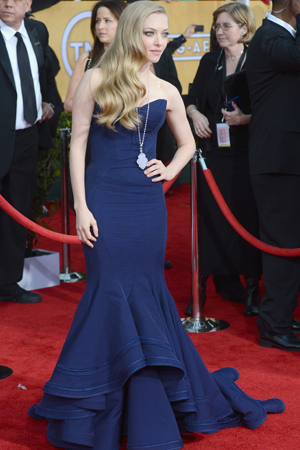 Les Miserables star Amanda Seyfried opted for a navy Zac Posen fishtail gown. A fabulous choice, according to Whitney.
"I always love a navy gown and I think hers looked simple and streamlined but very chic," she said.
Jessica Chastain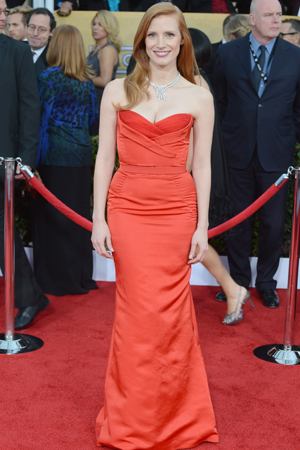 Zero Dark Thirty star Jessica Chastain in Alexander McQueen made Whitney's best dressed list. Why? It makes a serious statement, just like the actress does on screen.
"I also always love cherry red dresses," Whitney said. "It was a beautiful complement to her coloring. Very similar silhouette to Amanda Seyfried's."
Helen Hunt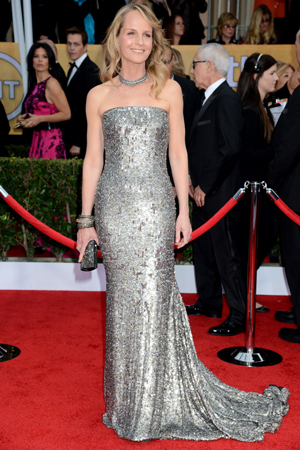 The Sessions actress Helen Hunt stole the red carpet in her Romona Keveza gown, according to Whitney.
"The metallic beading of her dress was beautiful," Whitney said. "Loved that it was a simple shape but a stand out fabric and texture."
Jaimie Alexander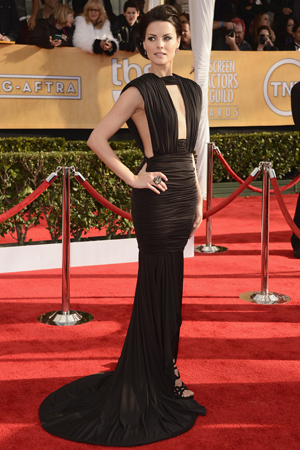 The Last Stand stunner Jaimie Alexander turned up the heat on the red carpet with her sultry Marc Bouwer gown.
"Super sexy and love the cut outs," Whitney said. "Tastefully done."
Tell us
Who was your pick for best dressed at the 2013 SAG Awards? Share in the comments below!
About Whitney Port
Whitney Port is not just another pretty face in Hollywood, she's an entrepreneur, fashion designer and a role model for young women. Paving her own way in the fashion world, Whitney is the creator and founder of the Whitney Eve collection, as well as two new lines, WE by Whitney Eve and Bits & Bobs by Whitney Eve. By combining signature styles from her overarching Whitney Eve collection, WE by Whitney Eve offers modern fashion to women at an affordable price. Bits & Bobs by Whitney Eve entered the jewelry world in 2012 with costume rationale and a vintage inspired aesthetic. Made from mixed metals and vintage chains, hard punk edge is fused with quirky ladylike charm resulting in an array of keepsakes. Whitney Eve's collections evoke a girly nature with a touch of punchy sass that distinguishes itself from the rest. All three lines are sold in select boutiques nation-wide, retailers internationally and are available on whitneyeve.com.
If Whitney wasn't busy enough, she recently penned the book True Whit; a go-to-guide for young women that includes advice on rearranging closets, decorating, makeup, cooking, dating and fashion tips. It's the one-stop shop into the mind of Whitney Port! To check out videos, news, photos and more on Whitney, head over to her blog at whitneyport.com.
Watch: Whitney Port shares her favorite looks from the SAG Awards
Photo credits: Getty