Do You Know What "Auld Lang Syne" Means?
We can't help you score a NYE kiss, but we can help you figure out New Year's Eve's traditional song. Who knows, maybe someone will come along and be so impressed by your historic and lyrical knowledge of "Auld Lang Syne" that they decide you're worthy of a kiss! (Because you are.)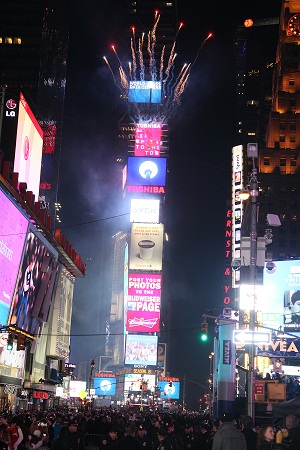 You most likely sing "Auld Lang Syne" just once a year. So why take the time to learn the song? Because, it has a great meaning... and it's actually beautiful when not sung by a few dozen of your closest, drunkest friends.
"Auld Lang Syne" started as a poem written by Scotsman Robert Burns in 1788 and literally translates to "old long since" or, more colloquially, "long ago" or "old times." That means when you're singing, "For auld lang syne," you're singing, "For old times." In essence, "Auld Lang Syne" is a musical toast where you say "so long" to the past year.
Another fun fact: While we sing "For auld lang syne, my dear," the original Scots poem said, "Ma jo." That means "my dear." Now you can sing "ma jo," explain why (but only when asked — don't be a show-off) and sound cultural. Oo la la!
Finally, as you listen to the words, keep in mind that in other parts of the world, the song isn't just used for New Year's Eve. People also use it at funerals, commencement ceremonies and to end events.
Below you'll find five pretty awesome versions of the song. You don't need to study hard to learn the words. Just listen as you go back to working your afternoon away, and we're certain you'll have it down before the party.
Mairi Campbell's version
Start off with this one from the Sex and the City soundtrack. First, Campbell's voice is stunning and angelic. You'll also find the lyrics are in their (slightly) more original form. They contain a few words and slang that may look a little weird. If you listen, though, you'll figure them out.
Sufjan Stevens' version
Here's why this version is awesome: With the banjo and the added voices, the song really comes alive and sounds a lot closer to how it does when you're in a room full of friends. Just because the song is meaningful and is saying good-bye to the last year is no reason for it to be depressing, right?
MxPx's version
Speaking of not being depressing, MxPx sings the least sullen version of "Auld Lang Syne" ever. Then again, what did you expect from a punk band? Upbeat and loud, MxPx knows how to toast old times. If you're hosting a New Year's Eve party, this is a great version to bust out if you want the fun to carry on until morning.
Lea Michele's (of Glee) version
While the movie New Year's Eve was beyond cheesy and overloaded with overacting, the soundtrack wasn't horrible. Namely because of Lea Michele. She definitely puts a little Broadway into the song, but it's still a beautiful rendition. While it's a slow version, if you picture Lea's signature sneaky smile as she sings, you'll have no problem hearing the hopefulness.
Paolo Nutini's version
Yes, that's the "New Shoes" guy. This version sounds like such a far cry from "New Shoes" that it's hard to imagine the same guy sings both. Try not to fall in love: His Scottish accent is in full force here, as are the original lyrics. The video is great, too, because it features some pretty traditional instrumentation.
There you have it! Five sweet versions of "Auld Lang Syne" to help you kick off the new year by saying a proper farewell to the old one. Feel free to use any of these songs on your party playlist and definitely make sure to roll out the "Auld Lang" trivia!
Images courtesy of WENN
More for New Year's Eve
5 U.S. cities with the best New Year's Eve parties
How to host a New Year's Eve party
10 Sparkly New Year's Eve dresses for under $100