A Stressful Christmas On Parenthood
Don't expect a Christmas miracle on Parenthood. It looks like another rough week ahead for the Bravermans.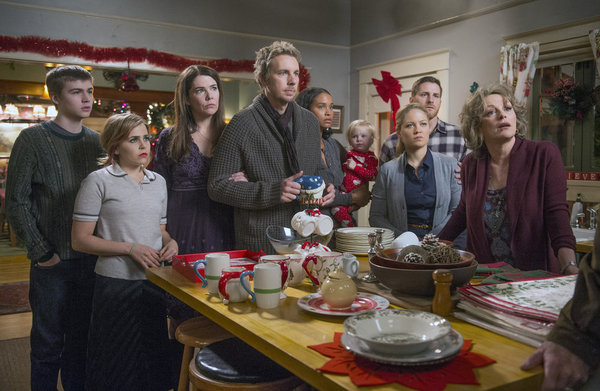 It's official: Watching Parenthood is even more stressful than experiencing parenthood.
On this week's episode, a lot of great things are bound to happen. Hopefully Julia, Joel, Victor and Syd will be able to bond and have some seriously wonderful family times. Meanwhile, Crosby (Dax Shepard) and Jasmine will celebrate their first Christmas as an old married couple. That ought to be sweet. Then, somewhere along the way, someone makes a disparaging remark about Grandpa Zeek's childhood hero and, never one to let things go, he'll spend the rest of the episode trying to redeem said hero.
However, there will be other aspects of the show that are far from chipper and amusing.
Last time we saw Ryan (Matt Lauria, Friday Night Lights), he'd just walked off Joel's job site after accidentally breaking a window and was drowning his pain in pills and soda. He never told Amber (Mae Whitman) what happened, and this week, Julia will break the news to her.
Watch:
Then there's Kristina's ongoing battle with cancer. As we saw in last week's preview, it looks as if things are about to get rough. She'll take a turn for the worse and end up back in the hospital. Not good. Will Haddie come home for the holidays to be with her mom?
Finally, we catch up with the freshly single Sarah (Lauren Graham). She and Mark appear to be officially over. Despite trying to take it in stride, she seems mildly disappointed. At the same time, she's acting more like she lost a friend or an acquaintance than a guy to whom she was once betrothed. Our best bets and deepest desires are that her lack of tears is proof she's already in love with Hank (Ray Romano).
Here's hoping everyone makes it through the holidays with relatively few tears shed.
Image and video courtesy of NBC
More on Parenthood
Parenthood recap: Trouble in Candyland
Parenthood: The Luncheonette's very special visitor
Parenthood recap: One more weekend with you