Ebert Still Tweeting From The Hospital
Film critic Roger Ebert is in the hospital with a fractured hip after he jokingly blames his "tricky disco dance moves."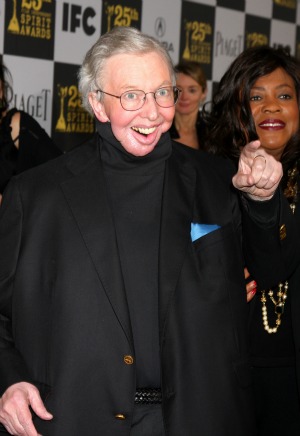 Film critic Roger Ebert won't be hitting the dance floor any time soon, but it seems that his wife knows how he broke his hip.
Chaz Ebert, his wife of 20 years, tweeted on Thursday, "Roger in hospital with hip fracture (tricky disco dance moves) but he is doing well, asking for a computer, will probably tweet."
And tweeting is exactly what the 70-year-old did. He told his over 750,000 followers, "Yes, fracture. But no surgery needed. Details follow. :)"
The Chicago Sun-Times writer didn't miss a beat and still managed to post his reviews of this weekend's films, including Jessica Biel's new movie Playing for Keeps and Citadel.
This isn't the only health ailment for the beloved critic. He survived thyroid cancer after he was diagnosed in 2002, but he then suffered further setbacks in 2006 when cancerous tissue was discovered on the right side of his jaw. He lost part of his jawbone and the use of his vocal chords after multiple surgeries.
Ebert is still working steadily, but he now communicates with a text-to-speech program and he even has a chin prosthesis for on-camera appearances.
He is now cancer-free, but his fragile health has him reflecting on his life and pondering his own death.
In a 2010 Esquire interview, he said, "I know it is coming, and I do not fear it, because I believe there is nothing on the other side of death to fear. I hope to be spared as much pain as possible on the approach path. I was perfectly content before I was born, and I think of death as the same state. What I am grateful for is the gift of intelligence, and for life, love, wonder, and laughter. You can't say it wasn't interesting."
The good news is that his hip won't require surgery like the last hip fracture did in 2008, so hopefully his wife will see his "tricky disco moves" again soon.
Image courtesy of Nikki Nelson/WENN.com