Just Weeks After She Sued Him
The singer is facing a $100 million lawsuit from her ex-boyfriend and manager just weeks after filing a lawsuit against her ex for misusing funds.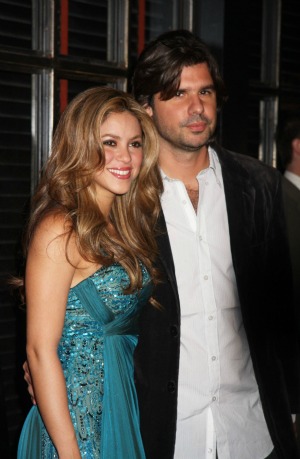 Shakira is in a good place right now. Her career is going along as successfully as ever, and she is about to have her first baby. But she has hit a little bump in the road, as her ex-boyfriend, Antonio de la Rúa, has filed a $100 million lawsuit against her.
Talk about a bad breakup. De la Rúa was also her manager until they broke up in 2010, and Shakira filed a lawsuit against him Nov. 20 for misappropriation of funds.
"The suit was filed on November 20th in the Supreme Court of the State of New York, about a month after Shakira filed a writ of summons against de la Rúa seeking damages for misappropriation of funds," said Rolling Stone magazine. "In the suit, de la Rúa claims that he had a standing arrangement with Shakira to act as her business manager, although there was reportedly no written agreement for the position."
De la Rúa's lawsuit claims alleged breach of contract and breach of fiduciary duty. He claims he was responsible for her success and, according to Rolling Stone, is asking for "his share of past and future partnership profits."
"De la Rúa spent more than six years building the Shakira brand into one the most valuable pop-star brands in the entertainment industry," the suit said, according to Rolling Stone. "The profits earned by the partnership in 2011 and 2012, and millions of dollars that it will earn in the future, were generated by the deals he conceptualized, originated, negotiated and executed."
The couple met in 2000, and de la Rúa started working for the singer in 2004. When they later broke up, in 2010, de la Rúa said Shakira wrote on her website that "we continue to be partners in our business and professional lives." But she later "terminated" him as her employee.
Neither Shakira nor de la Rúa have commented on either suit.
Photo courtesy of Chris Connor/WENN