A woman of
many talents
Brittany Snow is often recognized for her preppy personas like Amber in Hairspray and recently Chloe in Pitch Perfect. But with hobbies like snapping old-school Polaroids and listening to off-beat bands, Snow is anything but your average gal. Get to know our December Girl Crush as we go inside her Los Angeles loft.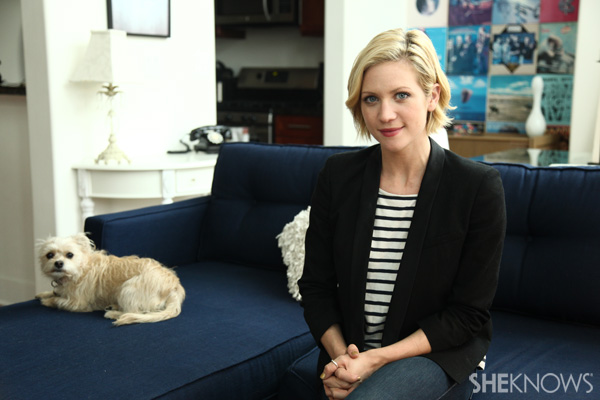 When we arrived at Brittany Snow's LA digs, the actress greeted us at the door with her 3-year-old rescue pup, Billie.
"This is Billie, and she's my dog, and she's extremely needy," Brittany told us as Billie sat cutely on her hind legs and offered up her paws. "I make up songs for her, which is really weird. She has a day care song that I sing to her. I'm not going to sing it because it's really embarrassing, but she gets really excited."
Snow was gracious enough to invite us to her home after our planned shoot at a nearby park was canceled due to rain. The hospitable star seemed completely down-to-earth, showing us around her pad and even helping move her couch for the shoot.
Go inside Brittany Snow's home with us!
This girl is no prima donna, which would explain why Snow is so beloved in Hollywood, by audiences and fellow actors alike. Snow counts Sophia Bush, Jessica Stroup and Anna Kendrick as close friends and even mentioned she'd had a sleepover with gal pals Kendrick and Pitch Perfect co-star Anna Camp the night before.
So what do three uber-famous actresses do at a sleepover?
"We literally just ate pizza, and gossiped, and talked," Brittany told us. "We talk about things like boys and politics. We just are pretty intense with our girl talks. Healthy debates, and like telling each other what's up."
Snow has many issues she's passionate about. For the past two years, she's been an advocate for Love Is Louder, a project she started over two years ago with the Jed Foundation that raises awareness about low self-esteem, bullying, and mental illness.
"It brings people together and lets people know they're not alone in the struggles they go through," said Snow. "I'm very passionate about it. I work on it every day."
She also recently completed the Lifetime series, Five More, a follow-up to last year's Five. The first series of short films explored five women's experiences with breast cancer. This series focuses on mental health. Snow co-stars with Jennifer Hudson, directed by Bryce Dallas Howard.
She told us it's the most rewarding work she's done this year.
"I play a girl who has schizophrenia," said Snow. "It was a hard thing to do, but it's so rewarding and really great to work with such amazing actresses."
But it's not just serious projects for Snow. She'll get to show off her comedic chops (expertly displayed in Pitch Perfect) during her recurring role this month on Fox's Ben and Kate.
"Ben and Kate is a really great show," said Brittany. "The comedy is really interesting and quirky. So when they asked me to be on it, I was really excited. I'm playing Tommy's girlfriend. She's really sweet on the outside, but she also has a bit of a crazy side."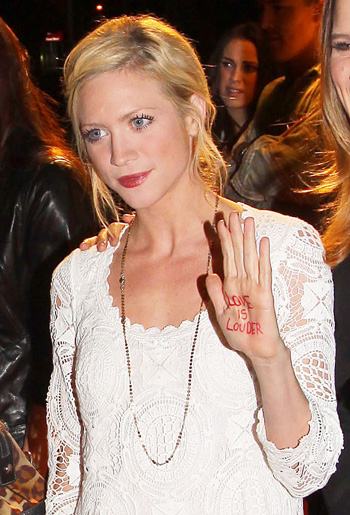 "[Love Is Louder] brings people together and lets people know they're not alone in the struggles they go through."
Outside of work, Snow has no limit to her interests. She counts interior decorating, photography, painting, cooking and singing to Billie as some of her favorite activities. And with an elliptical machine recently added to her living room, she also manages to squeeze fitness into her schedule.
"I watch Top Chef while I'm on my elliptical," Brittany laughed. "It cancels it out [the workout] because I'm hungry, but I'm working out, and I eat something after."
Unlike other Hollywood starlets, Snow doesn't obsess about her weight. She says she is happiest when she's just healthy.
"I don't really stick to a diet because when I go on a diet I get really crazy, and when I go off the diet I eat everything in the world," she told us. "In recent years, I stopped caring that much. The people that I look up to, they're not stick thin. Being healthy is really the goal that I think everyone should really strive for."
With 2013 quickly approaching, Snow has a lot to be happy about. She's starring in a movie next year with Kellan Lutz and Amber Heard called Syrup, and she is planning a girls' trip with her best friends around Europe.
And while she told us that she thinks "every girl is awesome," our Girl Crush told us that she's now crushing on her Five More director, Howard.
"She's so smart, and so grounded," Snow told us. "I just wanted to follow her around all day."
She may not realize it, but people are saying the same thing about her!
Be sure to catch Brittany Snow this month on Ben and Kate, watch her signing skills in Pitch Perfect (available on Blu/Ray DVD December 18) and read on for our Girl Crush quickie questions >>
Photo credit: SheKnows (top); KOKOPIX/WENN.com (right)