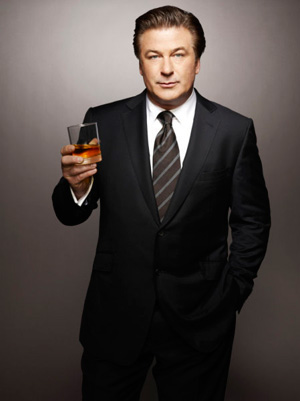 The guests
This is easy! Everyone loves Liz Lemon... even her exes. Expect to see everyone from the set of TGS with Tracy Jordan. Of course, we expect to see Tracy Jordan (Tracy Morgan). And we think his co-star, Jenna Maroney (Jane Krakowski), will be Maid of Honor — no doubt wearing something highly inappropriate. We're sure all the TGS writing staff will be there, as well as everyone's favorite NBC page, Kenneth (Jack McBrayer). Liz's parents and little brother (Andy Richter) will also be there.
Curve ball: What if her boss, Jack (Alec Baldwin), decides to chime in when the preacher calls for objections to the marriage? We know there are quite a few people out there who "ship" Jack and Lemon!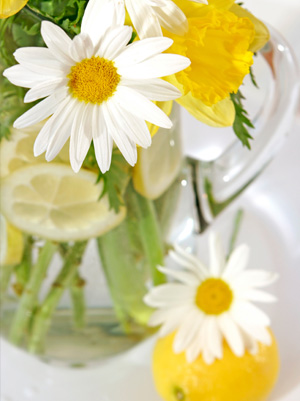 The decor
Liz's invitations were, of course, lemon-themed. Since most sensible brides will try to coordinate their invites to their decorations, we expect a few more lemons to be spotted. That means lots of yellow. Can you get any more bright and yellow than daisies? She could even class it up with a fancy lemonade-inspired cocktail. Yum! She may as well get as much use out of her last name as possible before she possibly changes it. (Do you think she will, though? Liz has moments where she can be pretty traditional... but professional women often choose to not change their name.)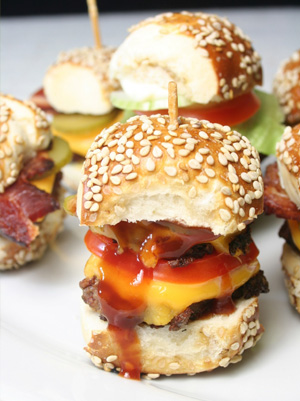 The food
Liz Lemon is not a fancy girl. She likes hot dogs from the stands outside work and can chow down on Chinese takeout with the rest of the writers any time. Of foods Lemon really loves, ham seems to be her favorite. We wouldn't be shocked to find a ham-carving station. However, to class it up she could go with some bacon-wrapped scallops on skewers for hors d'oeuvres. Then, for laid-back yumminess, we think fancy hamburger sliders are the way to go. Maybe even with, ya know, bacon.
Nothing says Midwest girl like a hamburger, and sliders are just a little less messy to eat.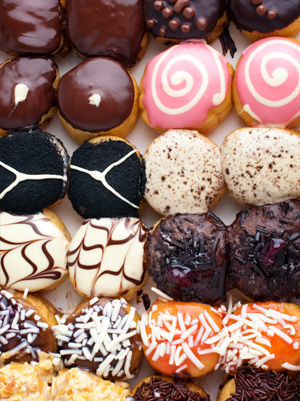 The cake(s)
Lemon's Pinterest boards full of wedding inspiration are full of crazy cake ideas! From the R2D2 cake and the massive cake of the 30 Rock building, she's a fan of crazy cakes. She also really, really loves doughnuts! She certainly wouldn't be the first person to have a tiered cake made of Krispy Kremes. Because she also likes bacon... and chocolate, a chocolate cupcake topped with bacon crumbles may not be out of the question, either. Of course, she could stick with the lemon theme and do some pretty lemon poppy seed muffins. But, we know Lemon and we expect glazed goodness.
And, finally... the dress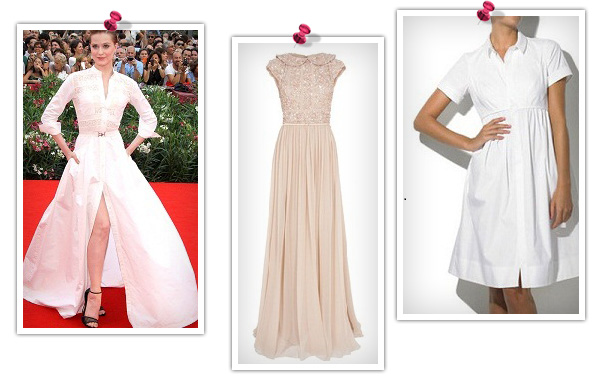 You may remember the last time Liz got "married." It was accidentally to Jack and she was wearing an oversized white polo shirt. Here's the thing: Liz can be hot when she tries, but she hates to try. For that reason, we're not sure which way she'll go on the dress. On the one hand, she pinned an Elie Saab vintage-inspire lace gown with a Peter Pan collar. She'll look gorgeous in it! Then again, she'd also look super-cute and be far more comfy in a white cotton shirtdress. She could go for short and modern (like the one from Wassanar on Etsy.com) or something more poofy, like the ballgown-esque version Evan Rachel Wood wore to an Ides of March premiere. No matter what, we're sure her future hubby will love it!
Last but not least, if you ever wondered how Liz & Criss became engaged, we've got a sneak peek of that super-romantic story! Check it out!
Tell us
What do you think Liz has planned for her big day? Share in the comments below!
More on 30 Rock
30 Rock unleashes, "S*** Liz Lemon says" video
30 Rock returns for final season
Ryan Lochte's 30 Rock sneak peek
Photo credits: NBC, Art Streiber/NBC, Elie Saab and Wassanar