Gifts for the blood-thirsty and music fan
Sometimes the hardest gifts to buy are those for the entertainment junkie. Sure, there's the typical DVD boxed set or popular CD, but if you consider yourself an overachieving gift giver, as I do myself, then you need to get a bit more creative, and, dare I say, entertaining with your presents this year. To help get your creative juices flowing, I've searched high and low for the best (and funniest) entertainment gifts for the celebrity wannabe in your life.
CDs and movie DVDs are easy go-to entertainment gifts to wrap and throw underneath the tree, but there are more creative presents inspired by Hollywood's largest genres to give! From Robert Pattinson man-sized pillows to a motorcycle inspired by the movie Tron, give your friends and family the gift of entertainment this season, but in a unique way they won't expect.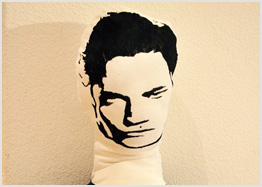 Edward Cullen pillow, $15
First up, you can never go wrong with Robert Pattinson. The end of the Twilight franchise left true Twi-hards everywhere coping with the despair of their favorite vampire plot finally coming to an end. To make the healing process easier, get your "Team Edward" fan this Edward Cullen Manillow — yes, that's a man-sized pillow. I have to admit, when I stumbled across this I laughed out loud, but for those craving a bit more RPatz in their lives, this will satisfy all their hunger needs. This hunky man of a pillow will only cost a mere $15 and is available on Etsy.
Available at Etsy.com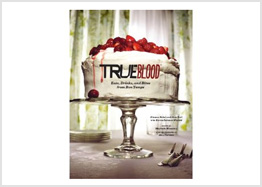 True Blood: Eats, Drinks, and Bites from Bon Temps, $17
Speaking of those vampire fans, give the one in your life something to sink their teeth into. The TV series True Blood fueled the bloodthirsty craze, but even those obsessed with the undead need to get their fill. How about giving the gift of southern food with a supernatural twist? Wrap up this True Blood-inspired cookbook for the holidays! Whether they're craving "Stake and Eggs" or prefer to sip "Dead on the Beach," this devilishly good cookbook features recipe notes from True Blood stars, food photos that will make them salivate and over 150 photos from the series. For only $17, True Blood: Eats, Drinks, and Bites From Bon Temps is a steal on Amazon.
Available at Amazon.com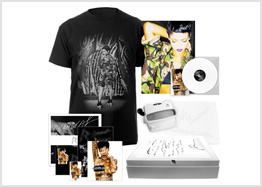 Diamonds Executive Platinum Box, $250
CDs usually cause quite a snore, but Rihanna's Diamonds Executive Platinum Box is no typical CD… just look at the price tag. For a whopping $250, you can give the limited edition of Riri's newest album Unapologetic to those committed music fans. But the CD isn't all this box includes (thank goodness!): The Diamonds Executive Platinum Box comes with a handwritten personal note, a custom-made white and silver Viewmaster with 3D images of the singer's style through the years, a T-shirt, a two-gigabyte flash drive with Rihanna's picture on it, seven art print lithographs, seven laptop stickers, a fan poster, a 40-page book of notes and lyrics featuring scribbles by the bada** herself, a 20-minute DVD and a special-edition vinyl record featuring remixes of Rihanna's hit single "Diamonds." That's a lot of loot for the true music collector. Riri in a box is available on the artist's official website, or hits stores on Dec. 11, but don't forget — it's a limited edition. So pick yours up while you still can!
Available at Fanfire.com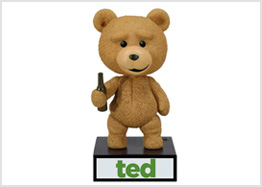 Funko Tronics Wobbler, $15
This gift is for those who love a good laugh, and a perverted teddy bear, too. Funko Tronics has brought the infamous Ted back to life as a talking bobble-head and now anyone can take him home. Say goodbye to those morning radio talk shows — listen to Ted crack his inappropriate jokes instead. "I love you girls, you know, somewhere out there are four terrible fathers I wish I could thank for this great night." For only $15, you can give your loved ones a best friend that will always make them smile. If Ted isn't their forte, Funko Tronics also has talking bobble-heads that imitate Star Wars' Darth Vader, The Hobbit's Gandalf and Gollum, Walking Dead's Rick and Daryl, or Gangnam Style's Psy. These talking Wacky Bobble-heads are available in Disney Stories and on Amazon.
Available at Funko.com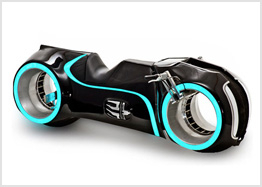 Tron motorcycle, $55,000
Last, but certainly not least, give the gift of speed this season — Tron-style! This is the ultimate entertainment gift, as long as you have some deep pockets to buy it. The Xenon motorcycle is fully functional, street legal and an exact imitation of the motorcycle seen in the flick. Even better, it's electric, so they'll save money on gas! With a battery that provides a 100-mile range and a top speed of 100 mph, your entertainment fan will be thrilled as they tear up the streets. The only downside to this gift: it's not a steal. The bike retails for $55,000; I'm buying it for my boyfriend as soon as he loans me $54,600. To put in your order, contact Park Brothers Choppers.
Available at EvolveMotorcycles.com
More Editor's Picks
More From SheKnows Explorer