Batman, Spider-Man &
The Avengers, Oh My!
Ka-pow! Superhero movies have hit the entertainment scene in a big way, with every character from Batman to The Incredible Hulk kicking bad-guy booty on the silver screen. Elicit a little hero worship of your own by gifting your favorite superhero fanatic with our comic-inspired gift picks.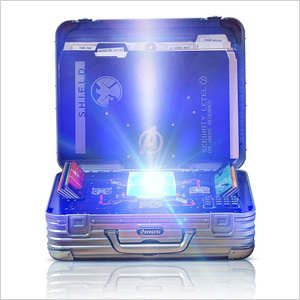 Marvel Cinematic Universe: Phase One DVD Collection
One order of brownie points, superhero sized, please! Buy this larger-than-life DVD collection (CoolMaterial, $140) for any comic lover — it offers The Avengers in Blu-ray and Blu-ray 3D, Thor, Iron Man, Iron Man II, The Incredible Hulk AND Captain America: The First Avenger — and we're pretty sure he or she will pledge undying devotion to you.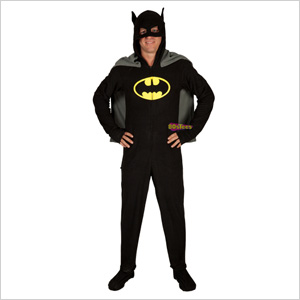 Batman Masked Pajamas with Cape
Nightmares are no match when you hit the sack in a PJ equivalent of the Batsuit (80sTees, $40). This set comes equipped with a removable cape and zip-away feet — and let's face it, all adults secretly wish they could wear footie pajamas to bed.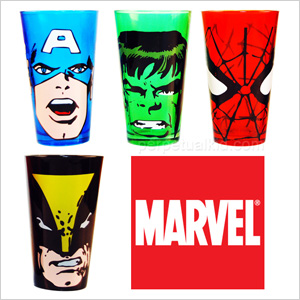 Marvel Glass Tumbler Set
What superhero supporter wouldn't be proud to pour an icy libation into a glass from this superhero tumbler set? Perfect for both the young and the young at heart, this collection features four of Marvel's biggest stars — Captain America, The Incredible Hulk, Wolverine and Spider-Man.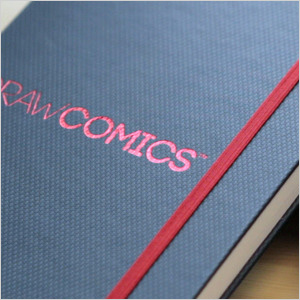 I Draw Comics Sketchbook
Help an artistic friend hone his superhero sketching skills with the IDrawComics sketchbook and reference guide (I Draw Comics, $25). Designed to help refine the basics of "comic book illustration, page design and the art of storytelling," the decidedly grown-up moleskin sketchbook includes invaluable reference materials as well as over 100 pages of templates to practice with. NOTE: Per the website, this item is currently available for preorder and has an estimated ship date of late December or early January, and delivery in time for Christmas cannot be guaranteed.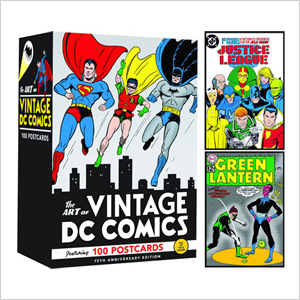 The Art of Vintage DC Comics: 75th Anniversary Postcards
Don't you just hate it when you buy a big box of postcards and the same three designs are repeated over and over? Not only do these DC Comics postcards (AlwaysFits, $19) celebrate the 75th anniversary of the comic publishing powerhouse, but each of the 100 cards showcases a different work of vintage comic book art!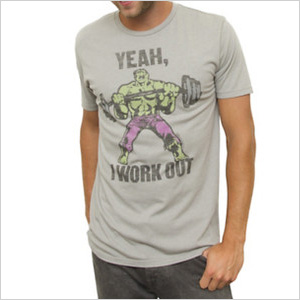 Incredible Hulk "Yeah, I Work Out" Vintage-Inspired Tee
Sure, it's totes adorable when a toddler teeters around in clothing depicting comic book characters. But can grown-ups pull it off too? We say yes. Exhibit A? This cheeky Hulk tee (Junk Food Clothing Co., $34) is funny and stylish without being too serious or too silly.

Avengers Portable Speakers
If your iPhone jam sessions lack serious juice, portable Avengers speakers (Zazzle, $34) are here to save the day. Doodle by OrigAudio features a light-yet-sturdy speaker, plus a kickstand for ultra convenience. And since the speakers weigh in at less than 10 ounces, they are a breeze to grab and go — no superhuman strength necessary.

The Amazing Spider-Man Vintage Comic Book Cover
No doubt the superhero junkie in your life has been adamant for years about how comics are "works of art." Lend credence to that declaration with The Amazing Spider-Man Vintage Cover (The Comics Factory, $159) — a vintage comic book cover gallery, wrapped and stretched over canvas.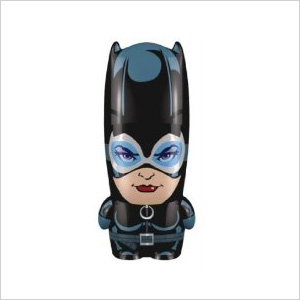 Catwoman x MIMOBOT USB Flash Drive
Ever since Anne Hathaway sunk her claws into the role of Catwoman in the latest Batman installment, the classic feline fatale has been in contention for most buzzed-about costumed character. This MIMOBOT designer USB flash drive (Mimoco, $16), which bears the fierce villainess's likeness, is data-storing purrrfection.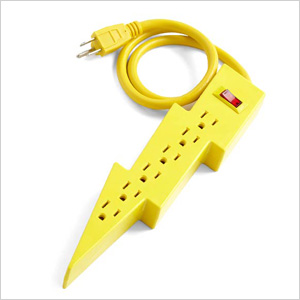 Lightning Bolt Power Strip
How does a superhero ensure that all of his or her handy, high-tech devices have the electricity they need? Why, with this lightning bolt power cord (ModCloth, $20), of course! Equipped with six outlets, the plucky strip maximizes efficiency so your favorite superhero can focus on rescuing distressed citizens.
More gift guides
Gift picks to appease the mommy in your life
Gifts and gear to get you through a zombie apocalypse
Don't go the way of Robsten: Wrap up romance this season