Fergie Talks To Oprah
Fergie sat down with Oprah to discuss her scary past drug use, the day she thought an FBI SWAT team was about to take her down, and the deal she made with God to stop using.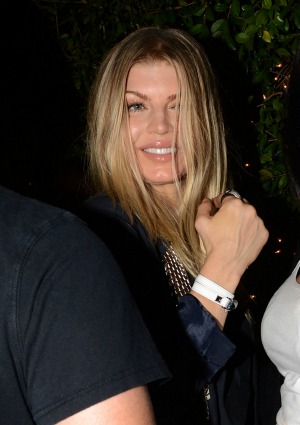 It's no secret that Fergie was once dangerously addicted to drugs, but the singer has never really opened up about what drove her to kick her addiction — until now.
Fergie sat down with Oprah to discuss her past drug use, and she described the day she hit rock bottom, spiraling into a drug-fueled paranoia.
"I got into a scene. I started going out and taking ecstasy," Fergie explained during an appearance on Oprah's Next Chapter. "From ecstasy, it went to crystal meth. With any drugs, everything is great at the beginning, and then slowly, your life starts to spiral down. [I was] 90 pounds at one point."
She claimed she was only on drugs for a year, and it took a day of massive, paranoid delusions to get her to clean up her act.
"I started getting really paranoid," she said. "So I went one day into this church, and I thought that the FBI and the SWAT teams were outside the church... so I had a conversation with God... and I said, 'Alright, if I go out there and the FBI and the SWAT team's not out there, then it's the drugs, and I'm stopping.' I went outside of the church... and there was no SWAT team, there was no FBI, just me and God. And I kept my promise. That day. That was it."
Fergie and her husband, Josh Duhamel, are both practicing Catholics. They wed in a Roman Catholic ceremony in Malibu, in 2009.
Image courtesy WENN.com