Carrie Underwood and Brad Paisley are set to host the 2012 CMA Awards for the umpteenth time on Nov. 1. We're sure the performances will be great, but all we care about is the fashion! The CMA Awards tends to have plenty of misses when it comes to fashion choices, but these superstars always know how to wow the crowd.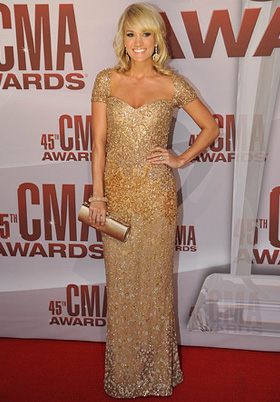 Carrie Underwood
Underwood is the quick-change expert when it comes to her CMA Awards gowns. The blonde Oklahoma native switches into different gowns more often than we can count, but we especially loved her Reem Acra gown from the 2011 CMAs. The gold creation — paired with a Jimmy Choo and Johnathon Arndt jewels — made her glow... literally. So jealous.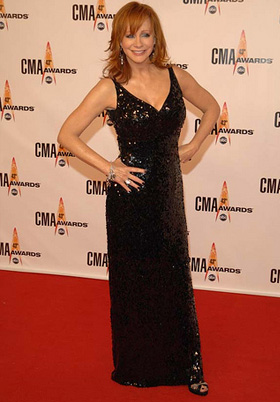 Reba McEntire
Reba McEntire could wear a paper bag, and we'd still put her on the best-dressed list — she's Reba McEntire, after all. However, we especially loved her sparkly 2009 creation because she co-created it.
"Reba and Terry Gordon — we designed this dress," she told People on the red carpet.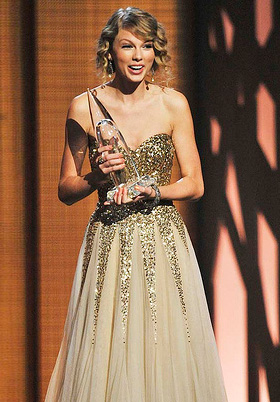 Taylor Swift
Another blonde songstress, Taylor Swift, is no slouch in the fashion department, either. She hit a home run in 2009 when she opted for a Reem Acra creation with Lorraine Schwartz bronze-gold, diamond and sea pearl earrings, as well as a 20-carat, blackened-gold diamond bangle.
The Red singer always catches our attention, though. Case in point: the 2008 show. That year, Swift opted for a glittery Kaufman Franco gown — we all know how much she loves her glitter. The problem? It was super heavy.
"I love [this dress], but it weighs like 400 pounds," she told Paisley during the show.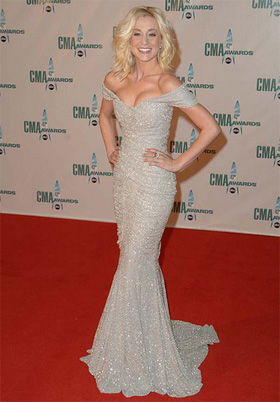 Kellie Pickler
We love, love, love Kellie Pickler's bubbly personality, but her dresses are sometimes a bit "meh." Not in 2008, though. The former American Idol finalist went all out with her silver Zuhair Murad gown.
Like Swift's heavy gown, Pickler said her dress "took an hour to get on [and] weighs 15 pounds!"
More on the CMAs
Who will perform at the 2012 CMA Awards?
CMA Awards nominations: Taylor Swift & Eric Church dominate
2012 CMT Music Awards: Presidents and bromances

Tell us
Who will be best dressed this year? Share in the comments below!
Photo credits: Country Music Association/Flickr