Justin Bieber's Singing Toothbrush
Purple and white with an ergonomic design, this brush plays two, yes two Justin Bieber hits for two minutes each — the amount of time dentists recommend you brush. What teen girl doesn't want a lousy-sounding tinny serenade before bed? I wonder if there's not some secret plot from Bieber's promoters to encourage these girls to dream about the Biebs…
The Situation for Peta
WTF? Really, Mike? What in the heck do your abs have to do with controlling the feline population? Snooki seems like a better candidate. This ad kind of makes us want to neuter you. Seriously though, between 6 million and 8 million animals end up in shelters each year, according to PETA, and many shelters have little choice but to euthanize them. I wonder how those numbers compare with the amount of "grenades" juiced-up guidos jump on for their buddies at the Jersey Shore...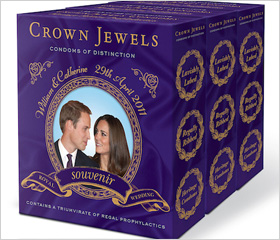 Royal Protection
Yes, these are condoms with the photo of the royal couple. The box claims they are "Lavishly Lubed" and "Royally Ribbed." The crownjewelscondoms.com website has this to say about the product: "Combining the strength of a Prince with the yielding sensitivity of a Princess-to-be, Crown Jewels condoms promise a royal union of pleasure. Truly a King amongst Condoms."
Are you telling me the Queen approved this? We're all for safe sex, but this is a little embarrassing. That said, I wonder if Prince Harry wore these on his last trip to Vegas to protect his "crown jewels."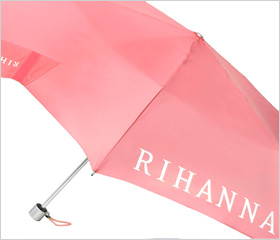 Rihanna's Umbrella
Rihanna released her hit single Umbrella in 2007. The song was acclaimed by music critics, ranked No. 1 on the music charts across the country, and even won RiRi several awards and nominations. Seeing that the single was a huge success, it was only natural for Rihanna to add a customized umbrella to the RiRi brand. We call this "thinking inside the box."
Umbrella was originally written for Britney Spears, but was rejected by her label. Regretting that decision now, huh, Brit Brit? You could have had your fans keeping dry under a Britney Umbrella!
Ozzy Osbourne for I Can't Believe it's Not Butter
This butter substitute has been available in the United States since 1986. In the commercial, celeb impersonator Jon Culshaw, shadows Ozzy, making the viewer ask, "Which one is real?" This is the true definition of crazy train because we can't understand a word either Ozzy is saying. Wait, I just figured it out — this must be what he spreads on dove's heads before he bites them off.
Shannen Doherty for Education Connection
Are we supposed to think that because Shannen was on a TV show where she went to a cushy Beverly Hills high school, that she's our go-to for education? It's a bit of stretch, if you ask us. But don't be fooled — Education Connection isn't an online school, it's just a website to help you find one because clearly we're not smart enough to use Google. Thanks for that, Shannen.
More weird products
6 Kooky infomercial products: To try or not to try?
Jeggings, Pajama Jeans, Snuggies & other silly winter wear
Jumpin' Jammer'z and Pajama Jeans: Just say no