Overall, night two of the iHeartRadio Music Festival was a complete success. Celebrities were pouring onto the red carpet, our seats were prime location, and the after-party had an open bar (okay -- maybe that wasn't a good thing…). But let's start from the beginning.
The first person we talked to was up-and-comer Sammy Adams. The only thing I knew about this kid was that he hates college… well, not really, but in his rebuttal song to Asher Roth's "I Love College" he's certainly not a fan. During our on-the-carpet one-on-one, Sammy dished about working with Enrique Iglesias, his preference for "normal" girls, and gave us a rundown on his hand tattoos. Get to know him a little better, and check out the interview here! This is a bad boy hottie to keep your eye on! He's going places, especially when Enrique has his back.
Now, I am probably the biggest CW fan you'll ever meet, so when the stars from the network's shows arrived at the carpet, I was stoked (ok, let's be real, I nearly hyperventilated). Tristan Wilds, who plays Dixon on 90210, was extremely cool, but as hard as I pried, he wouldn't spill any hints on what's to come. So, naturally, I turned the conversation away from Season 5 and grilled him about making out with nearly all the girls in the cast. Seriously, 90210 has the most incestuous group of friends I've ever seen! Making out with some of TV's hottest girls isn't a bad gig to have, but deciding who's the best kisser proved to be a tough call. In the end, Tristan said… Well, just watch it for yourself.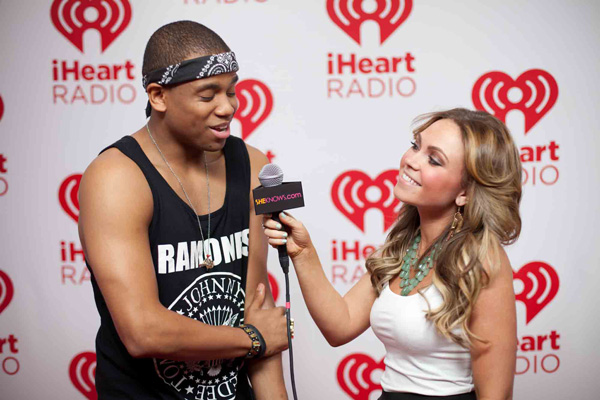 Ne-Yo officially became my favorite celebrity interview to date. As soon as we nabbed him on the red carpet, he pulled me in for a big ol' hug. Yes, that's right, my body was pressed up against Ne-Yo's [insert your jealous comments here]. His fly ensemble and charming smile made me swoon, but as if that wasn't enough, his jokester attitude solidified it for me. Ne-Yo is my new favorite artist, and he should be yours, too! Although he's an A-list celeb and had many interviews to give, Ne-Yo took his time with us to talk about his upcoming album R.E.D., how he learns all his smooth dance moves and show us his secret talent. It's pretty convincing. Check it out!
Now, we interviewed other favored celebs like Maria Menounos and Gavin Degraw (interview here!), but this article is getting long and we haven't even gotten to the after-party, which I know is what you're really curious about. Not to rub it in (okay, maybe I'm rubbing it in a little bit), but it was by far the best party I have ever been to. When we walked into Haze, Ne-Yo was up on stage performing and the bottles, of course, were poppin'. The first person I saw when I walked into the party was none other than Arie Luyendyk, Jr. Seriously, we just can't seem to stop bumping into each other at bars (I think it's a sign!). I went over to thank him for giving us such a great interview on the red carpet, to which he said "I have a bone to pick with you!" Uh oh, I was in trouble. We chatted for a bit and don't worry, I managed to win him over with my charm and wit. Luckily, I think I'm back on his good side. Once that was all said and done, it was time to just enjoy the after-party and mingle. It was basically what you would expect: drinks, late-night food and a little morning headache. Thanks for that, iHeartRadio!
Overall, the iHeartRadio Music Festival was an amazing experience. From the setup to the show and live stream, the production of the entire event was mind-blowing (way to go, Clear Channel!). The celebrities were bounty, and the road trip to Las Vegas was totally worth it. It was definitely the best music festival of the year, so here's to planning our coverage for the iHeartRadio Music Festival 2013! One thing already on my list: more comfortable shoes. Who's going with me?!
Get the scoop on everything that happened at the iHeartRadio Music Festival...
iHeartRadio Music Festival Night 1: Working the red carpet
Green Day trash-talks Justin Bieber at iHeartRadio
Usher shows a new side at the iHeartRadio Music Festival