Semi-Charmed Reunion
In last spring's finale of ABC's Once Upon a Time, the characters regained their memories. That's great for all of them except Emma, who's got more issues now.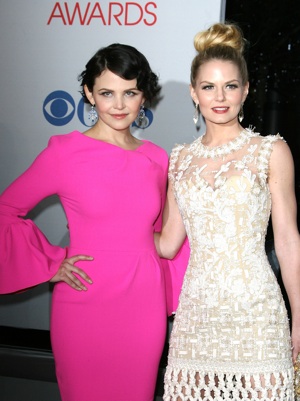 Who's ready for a Charming family reunion? Fans are dying to see the fallout following the Once Upon a Time season finale. The curse is broken, and everyone in Storybrooke remembers their fairy-tale lives, including Snow White (Ginnifer Goodwin) and Prince Charming (Josh Dallas).
With the truth out, Emma (Jennifer Morrison) can no longer ignore her magical roots. She is the daughter of two of the most popular characters in fairy-tale lore. That's a lot for her to take in.
She's spent the past 28 years carrying a chip on her shoulder. She has a host of abandonment issues, and they aren't going to disappear overnight.
As outsiders, we can understand Emma's pain. But her mom and dad want to start their new life together as soon as possible. Mary Margaret/Snow White presses, "Is there anything that you want to ask us? You must have questions ... We don't want to push, but we have waited for this moment for so long."
As you might expect, Emma's in no rush to have that conversation. Not only has she found her long-lost parents, but they're the same age as her! That's enough to put anyone on edge.
ABC has released a new clip from the Season 2 premiere that shows the trio acknowledging the elephant in the room.
Once Upon a Time returns Sunday, Sept. 30 at 8/7c, on ABC.
Are you excited for the season premiere?
Photo credit: Adriana M. Barraza/WENN