Mini Dawson's Creek Reunion
Another piece of the Dawson's Creek puzzle has been found. Don't Trust the B---- in Apartment 23 has tapped Cougar Town star Busy Philipps for an upcoming episode. The actress will share the screen with her former Creek co-star, James Van Der Beek.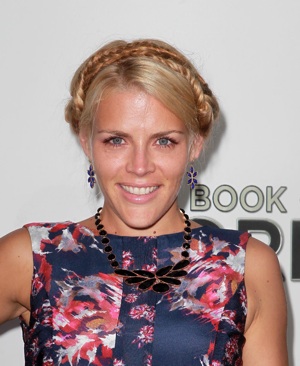 In August, we learned Don't Trust the B---- in Apartment 23 was bringing out the big guns. For Season 2, the comedy will pull at our heartstrings with a mini Dawson's Creek reunion. Co-star James Van Der Beek will reunite with former D.C. peer Busy Philipps.
While attending the Hollywood opening of The Book of Mormon, Philipps gushed about her guest spot to reporters. "I had so much fun," she exclaimed. "James Van Der Beek called me up personally and he said, 'So you know this offer you have to come on my show... I really want you to do it.' My agents told me, 'They want you to play a slightly funny b----y version of yourself. Are you in?' Of course I was."
The actress continued, "My character of Busy Philipps shows up to basically tell him the way that everyone feels about him from the cast. It gets interesting."
Speaking of the old gang, will we ever get a full Dawson's Creek reunion? We know Michelle Williams has a packed schedule, but she's open to the idea. Even though Philipps denied her involvement, we choose to keep hope alive.
As for Dawson's best friend and sometimes rival Pacey (played by Joshua Jackson), he could be next in line. When asked about Jackson appearing on Don't Trust the B, Philipps teased, "I don't know, you'll have to tune in and see."
Dawson's Creek ran for six seasons on The WB from 1998-2003. Philipps' character Audrey Liddell made her first appearance in Season 5.
Are you excited for Philipps' guest appearance?
Photo credit: FayesVision/WENN