Actor To Be Laid To Rest On Monday
Late actor Michael Clarke Duncan will be laid to rest today in Los Angeles, but fans remembered the gentle giant the day before, courtesy of a ceremony in Hollywood Hills, which prominently featured his most famous flick.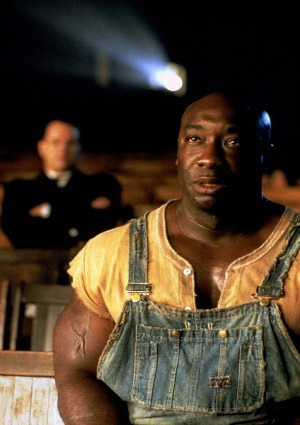 While only close friends and family members have been invited to Michael Clarke Duncan's funeral on Monday, a "large crowd," according to the Los Angeles Times, paid their respects to the actor with a Green Mile-themed memorial in L.A. on Sunday.
Duncan never fully recovered from a heart attack earlier this summer. The 54-year-old was still in the hospital when he passed away on Sept. 3.
He was to marry fiancée Omarosa Manigault-Stallworth in January. The Celebrity Apprentice star is credited with saving Duncan's life in July by giving him CPR. She reportedly had just left L.A. before his passing.
The Los Angeles Times notes the public viewing of Duncan's casket at Hall of Liberty in Forest Lawn Park also included a viewing of The Green Mile.
In his most recognized role, Duncan played John Coffey, a giant of a man with a giant gift of healing who is wrongly convicted to die in the 1930s South for raping and killing two young white girls.
Friend Bobby Hernandez spoke to the Times at the public memorial, indicating Duncan wasn't much of a stretch from the character he played on the big screen.
"He was an incredible actor, an incredible talent, but at the same time he was just an incredible human being," Hernandez said. "He's somebody that has probably the biggest heart I've ever met and probably the most genuine person I've ever met."
TMZ is reporting the "invitation-only" funeral will be led by "famed" preacher, Bishop Charles Blake.
The Chicago Sun Times reports the actor, who grew up in the city's South Side, will also be remembered Monday during another memorial service in Chicago.
Photo credit: WENN.com