What You May Have Missed At The VMAS
The MTV Video Music Awards are one of the most eclectic of the bunch, and the artists never fail to surprise. Whether it be clothing, music or what we can't wait for them to do, tonight's show was no different.

The 2012 MTV Video Music Awards were just as random and entertaining as expected. They balanced hip-hop, R&B, pop, rock and even punk music throughout the show.
Here are some of the most eye-popping things we saw:
Kevin Hart makes flat jokes about KStew, Drake and Chris Brown
What can you say? Kevin Hart said he wouldn't hold back on anyone, and he didn't... except Kristen Stewart. Hart said he knew everyone wanted him to mention her, but he told them to forgive and forget. Not quite the answer everyone expected.
His jokes in the beginning of the show were the obvious news stories of the day, including a (little too silly) fantasy about why Drake threw the bottle at Chris Brown in a fight that happened earlier this summer (hint: Drake was just trying to recycle). He created a persona of "I'm not going to follow your rules" but he ended up just being loud the whole show.
"You're talking to me in my earpiece, but it's live I am going to say what I want to say," he said in his beginning monologue. But the show would have been just fine with the individual actors and musicians introducing the acts.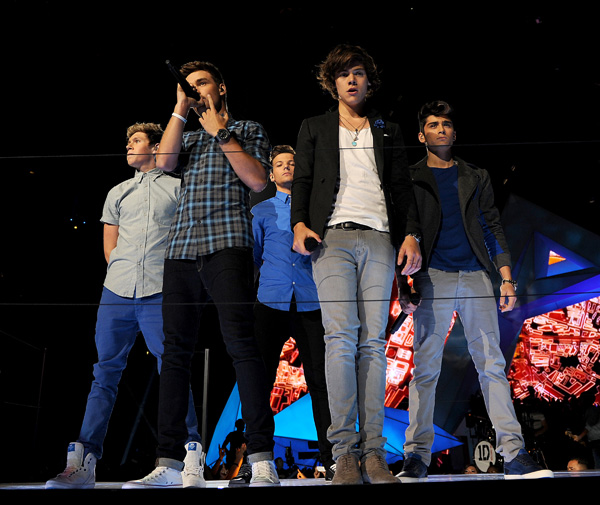 One Direction owns it
Let's face it, it may have been their night. The band is fairly young (in every way possible),0 but they made waves. The group won Best Pop Video, Best New Artist and Most Share-Worthy Video. You could tell all five of them were genuinely excited to be there and enjoying the night.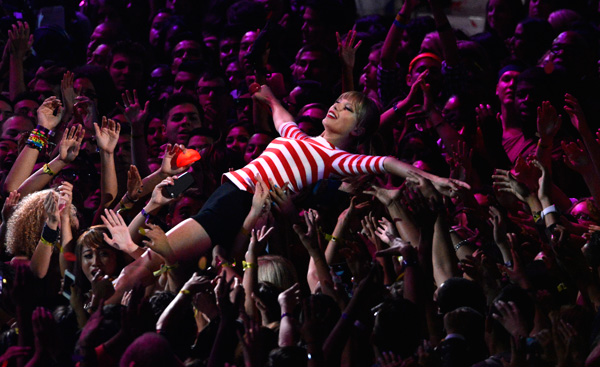 Taylor Swift and Lil' Wayne stage-dive
Kevin Hart started it after his intro monologue and it became a trend throughout the night. Lil Wayne and Taylor Swift both did it after their performances. We just hope the crowd was prepared. During Hart's it seemed like he shocked most of the audience he was jumping on, but they seemed to get used to it after the musician "surfed" over the crowd.
The backstage cam, seeing up Ke$ha's dress
MTV was streaming live the entire ceremony on their UStream page. The camera was backstage and in the audience. Those watching the camera could see what the audience really thought of the current musician on stage: It showed many artists with blank looks on their faces during a performance or an artist dancing along. Taylor Swift was in one of the first shots dancing along in her seat to Rihanna as the latter was onstage. It also showed artists backstage before presenting or performing.
One gem that was caught on the cam was as Ke$ha was presenting an award. After the winners came on stage, Ke$ha was seen from behind pulling her dress down and looking at the audience behind her as though they'd been looking up it. Kind of ironic for someone who wanted to look naked.
30 minutes after the ceremony was over, there had been a total of 781,000 viewers on the page throughout the night.
The surprising outfits
Photo credits (Nicki Minaj, Demi Lovato, Ke$ha): Apega/WENN.com, FayesVision/WENN.com, Ian Wilson/WENN.com
Is that Miley Cyrus?!
Rihanna and Miley Cyrus -- Both singers stunned with their new looks. Rihanna wore a simple white gown and simple short, natural hair. Cyrus showed up with her short blonde hair in a Pink-like updo, almost a Mohawk.
Katy Perry -- Loved it! The long dark locks were classy and, dare we say, very innocent-looking. Along with her dress, the singer looked gorgeous tonight.
Photo credits (Miley, Rihanna, Katy Perry): FayesVision/WENN.com
MTV mixes old-school performers with new
MTV has always done a good job of introducing new music while remembering our music past. Tonight was no different. Green Day performed at the awards show, the artists who have played the show more than anyone except Madonna.
When Pink took the stage, she began with an old recognizable tune before starting in on her newest song (but what was with the giant dancing lips?). While much of the night was focused on newer music, MTV never forgets where it started.
What was missing
Sometimes the things that don't show up mean as much -- if not more -- than the things that do.
Kristen Stewart -- She's promoting her new film On the Road at the Toronto Film Festival, so her not showing up may be a coincidence. But when MTV sent out a press release saying that "the cast of" Twilight would be presenting a clip from the new film, her name was surprisingly absent.
MCA's tribute -- While MTV did do a tribute for Adam Yauch, the Beastie Boy who recently passed away, it was less than a minute long and seemed like an afterthought. For a group that was there in MTV's early days, it seemed less than what he deserved.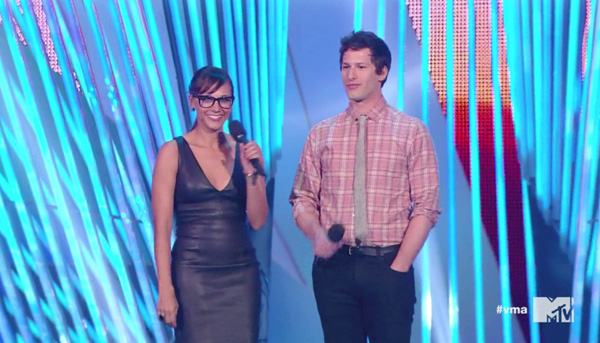 Rashida Jones and Andy Samberg presenting best hip-hop video
The two have a movie coming out, and they did not disappoint when introducing the Best Hip-Hop video. Rashida Jones, the daughter of Quincy Jones, was with Samberg, and both were somewhat dressed down. In true award-presenter fashion, they played the part and broke into a rhyme while presenting.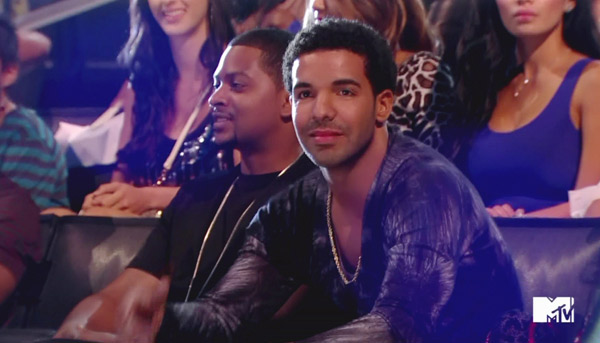 Chris Brown vs. Drake
The fight was over long ago, but it was still on people's minds. Kevin Hart made a joke about it, the cameras panned to the men as well as Rihanna during the night. They were up for the same awards, and both won throughout the night.
Which leads us to…


Katy Perry and Rihanna snogged... a lot
Who knew these two even knew each other (and maybe they didn't before tonight)? But all night they seemed to be BFFs. Throughout the evening, one would whisper something in the other's ear. At first Rihanna seemed like she wasn't that interested in the friendship, but by the end of the awards was chatting up Perry just as much as Perry was chatting up her.

Photo credits (Rashida Jones and Andy Samberg, Chris Brown and Drake, Rihanna and Katy Perry): WENN.com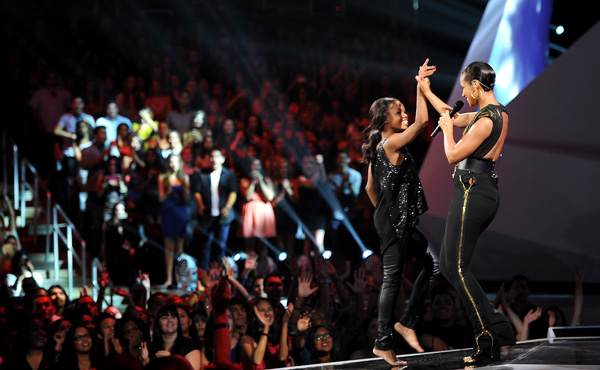 Alicia Keys and Nicki Minaj… and, Gabby Douglas?
The two performers were no surprise, but Olympian Gabby Douglas appeared onstage and began some tumbling in a cute, simple black outfit. This was after the Fierce Five all appeared onstage. The five gymnasts looked stunning in evening wear… especially since we are used to seeing them only in leotards.
What was trending on Twitter
Where do we start?
The most interesting was probably the two big events happening tonight. Normally on a night like this, the VMAs would have hijacked Twitter, but what with the Democratic National Convention, they fought for the spotlight. Twitter account @TheKing_atLyfe summed up the fight well. "Im surprised Twitter aint shut down tonight," he tweeted. "THE #VMA's and now#DNC too much in one night but the VMAs still dnt compare to our president."
@michaelhayes tweeted his thoughts about the night, but relating to last week's incident. "Clint Eastwood > Awarding Chris Brown anything #VMAs."
The two events combined took over Twitter for the night, and both topics equally prevailed on the trending lists on Twitter and elsewhere online.
Overall, it was a good night. Talented people performed and won awards, and equally talented people went home empty-handed. But the bigger story is always the personalities, and they did not disappoint tonight.
All other photos courtesy of MTV Press