John Travolta's Former Lover Tells All
The list of men claiming to have at one time been John Travolta's gay lover continues to grow! Meet Doug Gotterba, a former pilot who claims the actor whisked him away on romantic rendezvous for six years.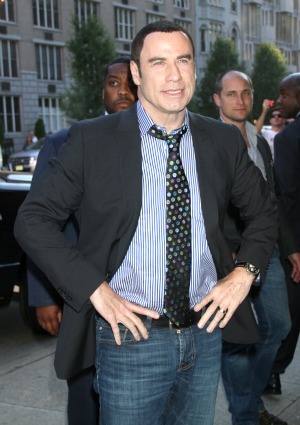 John Travolta gay rumors have a new name backing their validity. Doug Gotterba, who has identified himself to the National Enquirer as the star's ex-lover, has plenty to say about the actor's pre-Kelly Preston years.
Gotterba, a 62-year-old former pilot, claims he met John Travolta, now 58, in 1981 when the budding star interviewed for a pilot job.
"We flew into Monterey, Calif., and went up to the Highlands resort in Carmel," Gotterba said, recalling their first evening together. "We had a wonderful dinner with a fantastic bottle of merlot, and I got the sense I was being courted.
"As we walked from the restaurant back to the room, John suddenly said, 'Hey, would you like a massage?'
"I'd already prepared myself for something like that, so I said, 'Sure, why not'? I went back to his room, showered and came out wearing only a towel. John said, 'Okay, like down here on the bed.' He gave me a massage -- and it turned into something else!"
Over the next six years John Travolta would allegedly whisk Gotterba away to romantic locations. Their relationship eventually came to a close, but the former lovers would meet once again in 1992, a year after the actor's marriage to actress Kelly Preston had begun.
"We were making small talk when suddenly, I blurted out, 'So, John, tell me. Now that you're married, do you still prefer men – or women?' He looked me straight in the eye and said, 'Well, Doug, I still prefer men!' I said, 'okay.' And that's the last time we saw each other."
Long-lost lovers, massages and unconfirmed allegations are all too frequently associated with John Travolta's name these days. Is this a case of where there are multiple sources of smoke there's fire? Or has the actor simply become a rumor victim, a prime target for selling tabloids?
What's your take on even more John Travolta gay gossip being spread?
Image via WENN