(page 2 of 2)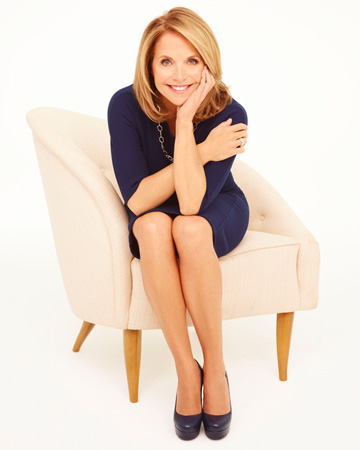 Girl Crush quickie
Read Katie's honest answers below.
1. Favorite travel spot
Couric:
Any place where there's a beach and I'm leaving really cold weather.
2. Book on your nightstand
Couric:
Let's Pretend This Never Happened
by Jenny Lawson.
3. Best celebrity interview
Couric:
Colin Farrell because he was touching my leg a lot. I liked it.
4. Worst celebrity interview
Couric:
Denzel Washington got very testy with me once when I was doing an interview with him. I think he woke up on the wrong side of the bed. People have bad days.
5. Celebrity crush
Couric:
Gregory Peck. He was so elegant.
6. Personal motto
Couric:
Don't let the turkeys get you down. Throughout my career I had naysayers who said, "You're never going to make it, or you don't have what it takes," but for some reason I just kind of always wanted to prove them wrong.
More SheKnows girl crushes
A bachelorette again: Ali Fedotowsky talks new show, new life
Giuliana Rancic on cancer, pregnancy and staying positive
Lauren Conrad confesses: Beauty secrets, body issues, and what she wants in a man
Photo credit: ABC