She's Finally A Vampire!
Set in the fictional town of Mystic Falls, Virginia, The Vampire Diaries focuses on the life of Elena Gilbert -- a 17-year-old girl who falls for a 162-year-old vampire. If you can't get enough of vampires, then you've probably been following the TV series since its premiere in the fall of 2009.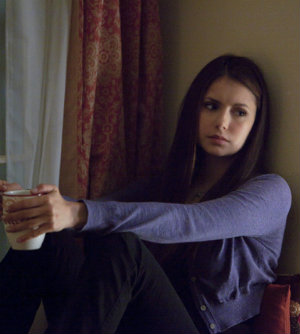 Don't miss the season premiere The Vampire Diaries on Thursday, Oct. 11 at 8/7c on The CW.
The synopsis:
Based on a book series of the same name written by L. J. Smith, The Vampire Diaries television series is set to embark on its fourth season on The CW. Though the Twilight books and films might get the most attention, it's The Vampire Diaries that came first -- published way back in 1991. Twilight didn't hit the shelves until 14 years later.
For three seasons, The Vampire Diaries focused on the love story between Elena (Nina Dobrev) and two vampire brothers, Damon and Stefan Salvatore (Ian Somerhalder and Paul Wesley). We all knew the day would come when Elena was eventually turned into a vampire, and in the Season 3 finale, that's exactly what happened. When Elena suffers a cerebral hemorrhage while in the hospital after a fall, she is given vampire blood to heal and save her.
Why should you watch?
Elena is now a vampire. That should be enough reason to watch. However, there are plenty of other good reasons, too: The Season 3 finale was action-packed -- watch it again before the Season 4 premiere to refresh your memory. It provided a lot of answers, but created many questions as well.
Starring:
Nina Dobrev -- Elena Gilbert
Paul Wesley -- Stefan Salvatore
Ian Somerhalder -- Damon Salvatore
Steven R. McQueen -- Jeremy Gilbert
Photo courtesy of The CW
Check out the season 4 trailer for The Vampire Diaries