HIMYM Is Back For Season 8
If there's one show you can count on for continuous laughs, it's definitely How I Met Your Mother. A hit since 2005, the CBS sitcom finds new ways to enthrall viewers. Whether it's hopeless romantic Ted Mosby (Josh Radnor) looking for The One, womanizer Barney Stinson (Neil Patrick Harris) looking for the one night stand, or Robin Scherbatsky (Cobie Smulders) running from commitment, How I Met Your Mother always delivers the comedy gold.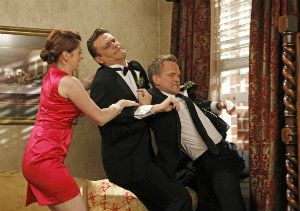 Synopsis:
On Monday, Sept. 24 at 9/8c, the eighth season will begin. Through the years, we've seen the growth of each character and have witnessed their lives intertwine in every way imaginable. How I Met Your Mother is narrated in the year 2030, and even though the show has been on for nearly a decade, there are still many unanswered questions.
The ending of Season 7 was packed with action. Marshall Eriksen (Jason Segel) and Lily Aldrin (Alyson Hannigan) had their baby. Ted persuaded Victoria (Ashley Williams) not to get married and the two drove off together. In a flash-forward, Barney Stinson (Neil Patrick Harris) and Robin Scherbatsky (Cobie Smulders) appear to be getting married.
Why should you watch?
In Season 8, we'll see if the Barney and Robin actually get married, what happens with Ted and Victoria, and whether Marshall and Lily make good parents. Along the way, there promises to be much laughter.
How I Met Your Mother is simply a fun show to watch. The characters are hilarious and you really get to know each one of the five stars. Plus, Season 8 looks to be especially important to the overall plot of this epic sitcom.
Starring:
Josh Radnor -- Ted Mosby
Jason Segel -- Marshall Eriksen
Cobie Smulders -- Robin Scherbatsky
Neil Patrick Harris -- Barney Stinson
Alyson Hannigan -- Lily Aldrin
Photos courtesy of CBS