Papa John's: We Don't Support Obamacare
Papa John's price increase is coming as the result of Obamacare. The pizza chain reveals just how much more one of their pies is going to cost you -- or they could just start cutting jobs instead!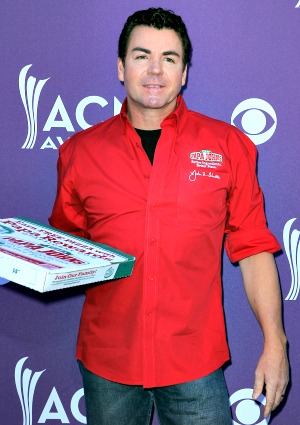 News of Papa John's price increase isn't sitting well with hungry customers on the hunt for an affordable pizza pie -- though coincidentally affordable health care is exactly what President Obama is aiming for!
John Schnatter, seen here at the 2012 ACM Awards, has bad news for the nation's pizza lovers. The CEO of Papa John's Pizza says he is going to have to raise prices an average of $.20 per order in order to compensate for the increased cost to his businesses resulting from the Affordable Care Act, known widely as Obamacare.
You see, Papa John's has three choices: They can begin offering their 165,000 employees health care benefits, pay the government penalty for not doing so or cut jobs. Franchises employing less than 50 people will not be subject to the Obamacare mandate, however, making one loophole for those not wanting to incur the health care costs or fine.
Judy Nichols, a Papa John's Franchisee explained how the Affordable Care Act affects her ability to open more stores, telling Legal Newsline:
"I have two options, I can stop offering coverage and pay the $2,000 fine, or I could keep my number of staff under 50 so the mandate doesn't apply. Obamacare is making me think about cutting jobs instead."
Stating the company's position on Obamacare, John Schnatter told Politico:
"We're not supportive of Obamacare, like most businesses in our industry. But our business model and unit economics are about as ideal as you can get for a food company to absorb Obamacare."
McDonald's estimates costs of $10,000 to $30,000 will be incurred at each franchise, while Burger King, Quiznos and Dunkin Donuts have all expressed concerns that the mandate will hurt business.
While business owners may be upset by Obamacare, the tweeting public seems not to mind the idea of a Papa John's price increase. "So my pizza order will go up by $0.20, but 16,000 people get health care?" wrote one Twitter user Wednesday. "Yeah, I'm fine with that trade-off."
In the wake Chick-fil-A's gay marriage scandal and ensuing boycott, it might be wise for Papa Johns to speak carefully when it comes to how they treat their employees and politics. "Hey, @papajohns, it only costs you 15¢ per order to give employees health care, and you haven't already been doing it?! Shame on you," chided another tweeter.
What do you think of the Papa John's price increase due to Obamacare?
Image via WENN
More From SheKnows Explorer