Rob Kardashian Caught
In A Big, Big Lie
Rob Kardashian got a lot of attention on Tuesday for announcing his enrollment in USC's Gould School of Law. The problem? He's not admitted there.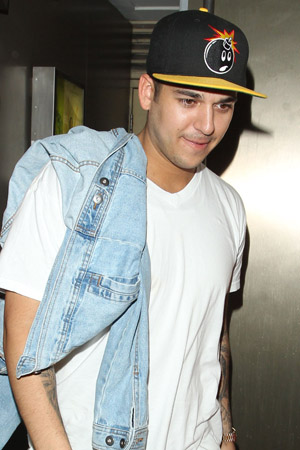 Oops: Rob Kardashian was caught in a lie Tuesday after he announced on Twitter that he's going to law school.
"Going to Law School very soon and so excited and can't wait!" the 25-year-old reality star tweeted on Monday afternoon. "School just never ends for me! #UniversityofSouthernCal #Trojans #FightOn."
The lie? He's not going to law school.
Rob Kardashian is not coming here, but we wish him luck at law school," the school tweeted after the story broke on Tuesday. "Rob Kardashian hasn't even applied to USC Law."
Talk about being caught in a lie.
We're willing to give Rob the benefit of the doubt, here: Maybe he was just announcing his intensions to apply for USC's law school. If so, why did he announce it before he even applied — does he assume that his celebrity status will get him in without a problem? Probably not, especially since some are saying that the Kardashians are on their way out.
Case in point? US Weekly released the first photos of Kourtney Kardashian's baby daughter, Penelope Scotland, on Wednesday and they aren't exactly inspiring a great deal of buzz. Penelope is adorable, as is older brother Mason Disick — but who want to hear about how baby daddy Scott Disick refuses to change a diaper? Not us, but that's because we can't stand him.
No word on how much Kourtney was paid for the photos, though some editors suspected the photos wouldn't draw more than the low five-figures.
"She will be lucky if she gets $20,000 to $30,000 for the pictures," an editor told HuffPo writer Rob Shuter. "The Kardashian craze has been over for some time now. Now a picture of Tom and Katie is worth more."
And maybe lies like Rob's are the reason why.
Image courtesy WENN.com
More From SheKnows Explorer