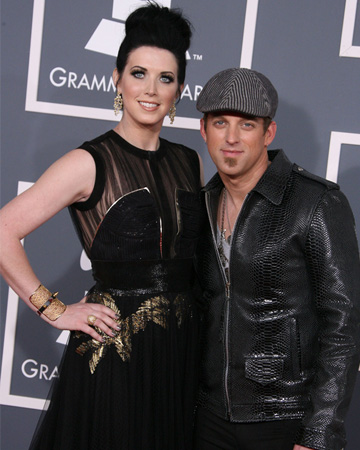 On the tour bus with Keifer & Shawna
Thompson Square is quickly becoming recognized as the next big country duo to hit the scene, but traveling cross-country in a bus for the majority of the year can be taxing. We chatted with the couple to find out how they make their home away from home a little more comfortable.
Husband-and-wife musical duo Keifer Thompson and Shawna Thompson (band name is Thompson Square… get it?!) know how to rock the stage when it comes to opening for country icons like Reba McEntire and Rascal Flatts. But with a growing awards shelf and committed fan following, this couple will soon be headlining sold-out shows of their own.
So what's one of the most important things for a band who works and plays together? A private tour bus, duh! In an interview with Thompson Square, Keifer and Shawna shared stories, dos, don'ts and must-haves on their very own brand-spanking-new, and most importantly, private tour bus… 
SheKnows: What is the scariest thing that has happened to you while touring on the bus?
Shawna: We actually got into an accident on the bus before, that was scary... it wasn't recent it was several years ago… and we had a bus fire. That was pretty recent. We were asleep on the back of the bus and he woke up to the bus lounge full of smoke.
SheKnows: What are your five must-haves for the tour bus refrigerator?
Keifer: Vitamin Water, lemonade, pepper Jack cheese, blueberries, Greek yogurt… was that five?
SheKnows: That was five but you can give me another one... Are there any tour bus rules?
"When people come on the bus you want it to look nice without tighty-whities hanging out."
Shawna: He likes being nice and tidy and I don't know why he married me because I'm not tidy at all, but for him he likes the curtains to be closed on the bus. Shoes and clothes off the floor. When people come on the bus you want it to look nice without tighty-whities hanging out.
SheKnows: It's a girl thing. Girls are incapable of leaving shoes and clothes off the floor.
Shawna: Yeah, it's really hard. We've been married 13 years and he still doesn't have a grasp on that. We like to try things on and not hang them back up.
Keifer: Yeah, and I don't like to pick them up.
SheKnows: Do you have any traveling traditions?
Shawna: Well, if we're driving to Alabama to visit family, we listen to this one CD every time. It's a Shelby Lynn CD, it's called Temptation, and we love it.
Keifer: And if going to Alabama, we always stop to get a nice hot fudge sundae, there are Dairy Queens everywhere on the side of the road so we like to stop and treat ourselves.
SheKnows: So we wanted to play a quick game with you, who's better?
Keifer: Me.
SheKnows: Who's better at dancing?
Keifer: Me. Hey, it was nice talking to you. (Laughs) (Shawna) I agree, it's him.
SheKnows: Who's better at driving?
Shawna: Oh, definitely me. (Kiefer) what? You never drive. It's me, she doesn't drive at all.
SheKnows: Who, when you first started dating, was a better kisser?
Shawna: I would say me.
SheKnows: Who's the better speller?
Shawna: OMG, me by far, he's always misspelling everything on Facebook and Twitter. Our fans make fun of him for that.
SheKnows: Who's the better singer?
Kiefer: Shawna. She agrees with me there.
SheKnows: What about the discipliner with the dog?
Shawna: That would be Keifer.
SheKnows: Typically the man. Who's the better song writer?
Shawna: That would be Keifer.
Keifer: Yup, me. You can't have it all! One is the singer, one is the song writer.
SheKnows: My last question... I know you're working on a sophomore album. What can we expect from that and when can we expect it?
Keifer: Something from 10-12 songs. We're going to be releasing it in the spring. It's going to be a very diverse record. It's going to be all over the map. A lot edgier than before
Find out what happens on other celebrity tour buses!
Britney Spears' tours are one massive orgy!
Giuliana & Bill Rancic to get on the bus with baby
Bret Michaels' tour bus busted for pot
Photo credit: Adriana M. Barraza/WENN.com, Judy Eddy/WENN.com
More From SheKnows Explorer