Lady Gaga Shops At The Chop Shop
Lady Gaga really knows how to choose a cut that flatters her -- of meat, that is. The pop star was recently spotted yet again wearing hunks of beef.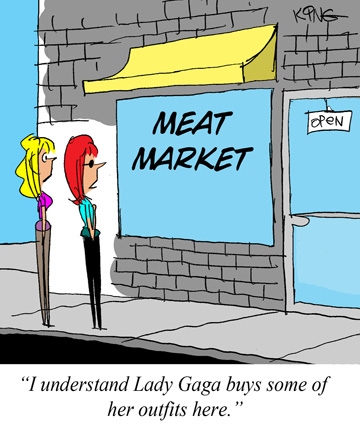 You'd think Lady Gaga would have learned her lesson after PETA scolded her for wearing a raw meat dress to the 2010 Video Music Awards. Not so much. The pop icon tweeted a photo of herself sporting yet another beefy get-up at her Born This Way Ball in Tokyo. But don't have a cow. It's made of fabric, not real bovine. Oh thank gawd. So how long until PETA complains that this is sadistic propaganda designed to encourage people to eat puppies and kittens? 3... 2... 1... Go.
Cartoon by Lambert King