Kat: So are you saying you'd like to produce at some point in your career?
Kayslee: Yes, actually one of these days I'd like to move back to L.A. and start my own little production company and start writing for other artists or find new artists. I actually like the writing more than the production.
Kat: You've said before that out of the TV work and modeling you've done that music is your favorite. Is it the writing/creative part of this particular medium that makes it your favorite?
Kayslee: Writing takes practice and after a couple years I'm just now starting to feel confident in writing my own music. But since I was a little girl I've been performing on stage, and even though I'm not quite there with my music, that's why music is my favorite. I love getting on stage, I've been doing it since I was five, and I'm not afraid of performing. I can't wait to get a band together and go on tour. Some have warned me that I'll have to be on the road for two years straight, but to me that sounds like the best thing ever.
Kat: You have an impressive fan base, but for those not as familiar with your work, how would you describe your music?
Kayslee: It's really important to me to sort of move away from the "bubble-gum" pop. This EP is very sassy, very girly -- it's kind of like telling someone "screw you," but with a little wink on the side. I have songs that are about heartbreak and love, of course, I'm a girl so I'm going to write about boys, but this EP is more strong and independent and sort of coming from a place of not needing a boy.
Kat: You've already got some street cred because you performed the National Anthem, one of the hardest songs to sing EV-er, in front of 60,000 people at a San Diego Chargers game, proving you can perform outside of a studio, which frankly many pop artists struggle with.
Kayslee: Technology is amazing and what they can do to fix a voice these days is nuts. I wanted to cry last night because JJ (Jack Joseph Puig) told me my voice was tremendous and that I had a beautiful voice that was really easy to edit. Hearing that from him was the biggest compliment because, of course, we are all our own worst critics. I'm so used to my voice that it doesn't really stand out to me. This is a real chance to prove to the haters online who have said I can't sing or who have accused me of riding on other people's careers that I really can sing.
Kat: It's surprising to learn you have haters!
Q&A
how would you describe your music?
It's really important to me to sort of move away from the "bubble-gum" pop. This EP is very sassy, very girly -- it's kind of like telling someone "screw you," but with a little wink on the side.
Kayslee: I plan to do all acoustic videos like live in a studio, to prove myself. I can totally understand why people wouldn't take me seriously, I know I come across a certain way, but [with my music] I definitely make it clear who I am. For a while, people saw me as a model, but I've been really honest online through my blog and I've gained a lot of followers and support by being an open book.
Kat: You've been compared to Madonna, Britney Spears and Gwen Stefani. Is that flattering or does the pressure make you want to throw up?
Kayslee: Uh, it kind of makes me want to throw up. I have a lot to live up to, but I'm not really scared about that. I have complete faith in my career. There is so much comfort in focusing on my music, and once I started doing that, everything just sort of fell into place. I know it will be okay -- I get a little worried about the timing of it, but I know I can do it. I'm very excited to prove myself to others, but on the inside, I know I'll always be okay.
Kat: I kept reading about some big controversy regarding a collapsed contract you had with Hollywood Records, but I couldn't find the details. So what was the controversy about?
Kayslee: I was recording all through high school and meeting with different labels and working with different producers. I showcased with Hollywood Records and they wanted to sign me. The deal fell through due to problems with the business s side of it. I was heartbroken. I moved to L.A. to focus on my acting, which I kind of regret, but looking back I now see that everything happened for a reason. I left Disney (which really wasn't me), moved back home and started writing. It all makes sense now, but for a while there, I kind of gave up on music.
Kat: You have two older sisters. What's the age difference between you?
Kayslee: I have a sister that is six years older and a sister that is four years older.
Kat: When the three of you are all back together under the same roof, what do you do for fun?
Kayslee: We're all a really loud, entertaining family and we're all singers so we go out to eat and I swear whenever we're at a restaurant we end up singing some musical theater song. We're extremely silly, and close -- my parents are still married.
Kat: So when you guys go out, you're kind of like the Brady Bunch? You just burst into song?
Kayslee: Kind of. My oldest sister starts it. She's not very shy. And then the rest of us join in.
Kat: I Facebooked you, of course, and couldn't help but notice that a few days ago you went from 'in a relationship' to 'single.' Anything bitter or hostile you'd like to say publicly?
Kayslee: No. Actually, it wasn't too bad. I'm really focused on this right now. Maybe a couple of years ago I would have had something to say. If anything, you might hear it in my music.
Kat: So there's no mental or physical shortcomings (of your ex's) that you'd like to share with the group?
Kayslee: All I can say is everything happens for a reason, and I can say for young girls it's very important to focus on yourself. If anything is draining your happiness, especially when you're young, you need to focus on you.
Kat: At the risk of generalizing, it seems that for many young women their identity is wrapped up in their boyfriend or their relationship.
Kayslee: It's important to be an independent individual. And men love that more anyway. They don't want you to be needy.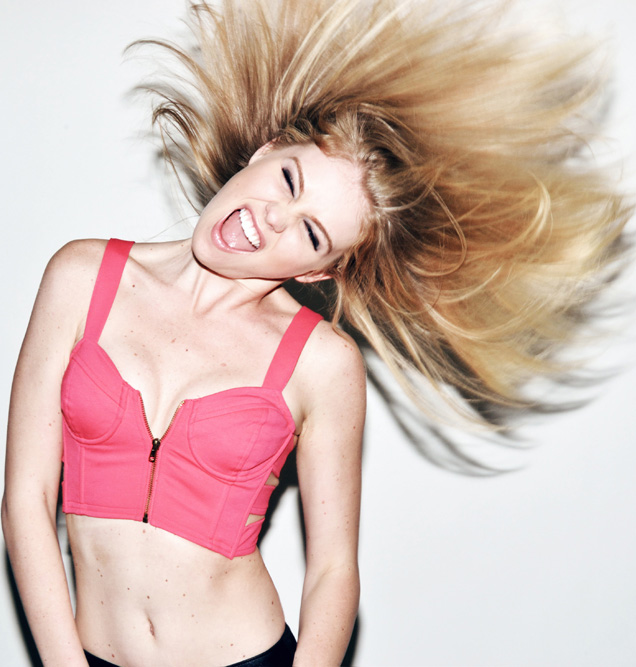 Kat: Guys don't dig Stage Five Clingers typically.
Kayslee: No! They hate that! Some young girls feel they need a relationship to be happy and I can honestly say that the happiest times in my life have been when I'm focusing on myself and my work.
(During our phone interview, Kayslee fades out for a few seconds and I can't hear her)
Kat: Hey, dear, you're fading out. I can't hear you. What happened?
Kayslee: Oh, that's probably because I opened the door to my car. I'm in my car. I focus the best in my car. I get extremely distracted really easily. I have to be in a place where I can't move anywhere or touch anything. When I'm driving it's the worst. I'm not going to even get into that. JJ claims that's the sign of a true artist. He says our brains work completely differently.
Kat: What are three items on your "Bucket List?"
Kayslee: Oh, I like that! Live in Italy for at least two months, I want another tattoo (I kind of want a couple, my parents don't like that)…
Kat: You have a tattoo now?
Kayslee: I have one. I got a treble clef on my left wrist right as I was going through all that record deal stuff. I see it all the time and it's a constant reminder to focus on my music.
Kat: And the third thing?
Kayslee: I want to get my yoga instructing license.
Kat: Seriously? That's such a departure from all this other sort of "celebrity/fame" stuff.
Kayslee: I want to open a yoga studio. When I moved back home I started practicing about once a day and it's how I find peace. I feel so inspired afterward. I think it's important to not stress about exercise and just love what you're doing. When I was on the treadmill trying to stay in shape I was stressed. When I'm doing yoga I feel healthy and in shape.
Kat: When you're wicked famous in the very near future, which of the three things can we expect to see in conjunction with your super-stardom? A purse line, a clothing line or a perfume label?
Kayslee: Hmmm. I think a clothing line. I have a certain style which is pretty normal for L.A. My manager gets a kick out of it because I'm constantly wearing combat boots -- it doesn't matter what I'm wearing. My boots have been through a lot with me and I don't like to take them off. My mom hates them. I would love to design some boots and we've already been talking about a clothing line.
Kat: If you could spend an entire day with anyone, famous or otherwise, who would it be?
Kayslee: Pink. I've felt a connection to that artist since I was 8, which you wouldn't expect because Pink is kind of edgy. But as I get older I have a little more of an edge to me too. I have a sassy side to me, so it makes sense now. I'd sit down with her for a whole day if I could.