Are You Blown Away By Carrie Underwood?
Carrie Underwood learned on national television that one dumb comment can live on forever. The singer, who shot to fame on American Idol, has since come a long way in crafting her public persona.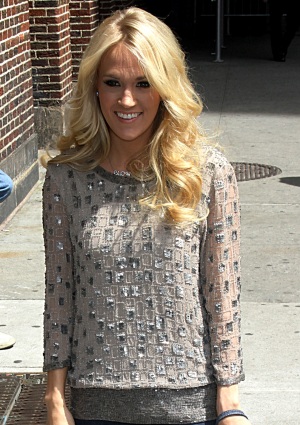 Think Carrie Underwood is flawless? If so, you're a fool who has thankfully fallen for the image she works hard to project.
"I'm glad I can present a polished version of myself when it counts," Carrie Underwood said recently, admitting perfection wasn't always the case. "When I was on Idol I said some dumb stuff, and learned what that could do, and that stuff lives on. It seemed like every single solitary stupid thing I said was aired and featured and replayed over and over and over again."
After her American Idol days, the 29-year-old made a conscious effort to portray herself in public as what she calls a "somewhat intelligent person" who graduated from college.
Ironically, once that perfection was achieved, Carrie Underwood had to then set about letting it go -- in the studio, at least, in order to let the creative process flow.
"When you go in to write, you have to be willing to sound stupid," the star, whose Blown Away album debuted Tuesday, said. "Before you have a chance to think about something, you blurt it out and it doesn't make any sense, and everybody gets a good laugh out of it. You can't be afraid to sound completely dumb when you go to write."
The singer, who wed hockey star Mike Fisher in 2010, is careful to note there's a difference between the public persona known as Carrie Underwood, and the private person out of the limelight.
"When I think of my career and when I think of 'Carrie Underwood,' that has kind of taken on a life of its own," she shared. "I feel like when I'm on stage, when I'm writing songs, singing songs, I'm in the studio, I'm shooting videos, I kind of get to become this character, and I can make that whatever I want to make that."
That persona often means checking her private life at the door. Underwood, who was among those insulted by fellow country star Eric Church for her television beginnings, went on to say, "I honestly in a lot of ways don't want to sing about my real life, because that's private. I'm pretty private about my personal life and my husband and our life together, and I think it's so wonderful I can separate the two. I get to be an actress. I get to play a character. I get to have fun and tell stories."
Carrie Underwood, who jokes she's "got everyone fooled" if they think she's flawless, has one person who isn't afraid to call her bluff. "My husband (NHL player Mike Fisher) calls me 'the queen of awkward moments.' If something can be said to make an awkward moment even worse, I'm going to say it," she added.
Image via WENN