Sheridan To Get Millions From ABC?
Attorneys for ABC and Nicollette Sheridan battled it out in court Wednesday morning. Judge Elizabeth White isn't happy with either of them.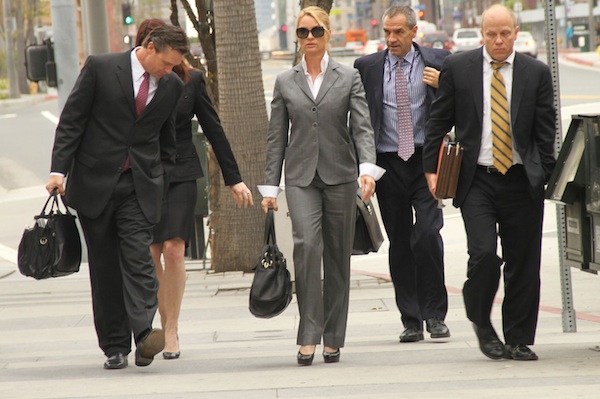 The legal drama between Nicollette Sheridan and Marc Cherry is set for another round as Wednesday morning brought new developments in the wrongful termination suit against Desperate Housewives producers.
Judge Elizabeth Allen White set a new trial date for Sept. 10, 2012 just a month after a mistrial was declared over a "hopelessly deadlocked" jury. Sheridan claims her character Edie Britt was wrongfully written-off ABC's Desperate Housewives after Sheridan expressed discontent over a script change. Sheridan also claims executive producer Marc Cherry then hit her on the head after their conversation. Attorneys for Sheridan state this altercation led to her inappropriate dismissal from the show.
According to E! News Online, Nicollete demands almost $6 million in damages and $35,000 in additional sanctions for what Sheridan's lawyers claim are "frivolous motions" requested by ABC attorney Adam Levin. The sanctions were dismissed on Wednesday.
Judge White didn't seem too keen on another trial as she spoke to lawyers for Sheridan and ABC on Wednesday. (Sheridan was not present). "I very, very strongly urge you to continue settlement discussions." E! News Online reports Sheridan's attorney, Mark Baute, told the press afterwards, "Disney never settles."
Marc Cherry was recently dropped as a defendant from Nicollette Sheridan's lawsuit.
Photo courtesy of: Ryan Fu / WENN.com
Read more on celebrity lawsuits
Keith Olbermann sues Current TV for insane cash
How much is Pauly D paid to party and prank on Jersey Shore?
Save Zsa Zsa! Gabor's daughter fights for her mom
More From SheKnows Explorer