SK: You graduated from high school at 16, so did you actually ever serve detention?
Shanley: I did once. I served Saturday detention which is the worst, because you have to go in and sit there for, like, five hours.
SK: Do you remember what your infraction was?
Shanley: I think I missed too much school, which is super lame. I wish I could say I had, like, skate-boarded down a hallway or spray painted something or put a squid in a locker.
"[Hunger Games' Josh Hutcherson] smelled horrible."
SK: Josh Hutcherson of The Hunger Games also stars in Detention. Is there any one thing every woman in American should know about him?
Shanley: He is really good at rock climbing. I did have to retrieve all the supports he had put in after the climb, because it's a really hard course and he was tired. I sort of cleaned up after him. (Laughing) He'd probably be mad at me for telling you that.
SK: He'll forgive you. We thought you might tell us that he was big into toilet humor or that he smelled good, or something.
Shanley: No. He smelled horrible. I'm just kidding! He's a great guy. He's a typical guy's guy.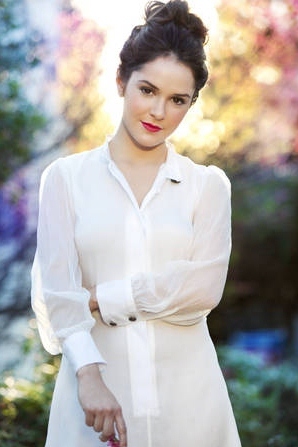 SK: You're currently a junior at the University of California majoring in cultural anthropology. What drew you to that field?
Shanley: I've always loved to travel, throughout my whole life. I've [visited] other cultures and places and you have to learn how to communicate by losing yourself -- you can't be egocentric. You have to be completely open-minded. Anthropology is really interesting to learn because as an actor, you are playing other people and trying to learn about other people. With anthropology you're learning about psychology and what makes us human. It also helps you gain perspective and think about the world instead of just us.
SK: What's the best piece of advice your mom ever gave you?
Shanley: She always told me to read a lot, and I never really understood that, but there's a lot of really good literature out there. My parents always wanted me to keep learning and growing.
SK: What's the worst piece of advice someone gave you?
Shanley: Many people told me to suck up to producers, directors, casting directors and I've learned you don't have to do that. You just have to be yourself and do good work.
SK: What is a hobby or habit of yours that fans might be surprised to learn about you?
Shanley: Well, this isn't really a secret but I love anything outside -- rock climbing, camping, running, hiking. I've done two Tough Mudders, which are insane, and benefit Wounded Warriors.
SK: And a Tough Mudder would be…
Shanley: They are 12 miles with 21 obstacles and it's a horrible, horrible, horrible race. It hurts so bad but you're so happy when you're done with it.
SK:What's your favorite guilty pleasure?
"I'll just sit and watch It's Always Sunny in Philadelphia, and I'll do that a disgusting amount of the time."
Shanley: I'll just sit and watch It's Always Sunny in Philadelphia, and I'll do that a disgusting amount of time, and episodes I've already seen before. This probably isn't a guilty pleasure, but it is to me because I could be doing so many more productive things.
SK: Can you pinpoint what it is about that show that makes you want to watch it over and over again?
Shanley: I wish I could be friends with anyone on that show because they just have so much fun and they write it all themselves. It's always crazy -- they're always pushing the limits and I just love it.
SK: What's your biggest First World Problem?
Shanley: (Laughing) Oh, I have so many. I say this several times throughout the day. So let's see, an example would be, "I have to put on makeup and go to an audition today," or "I can't wear hipster glasses because I have perfect vision." Those are both First World Problems.
SK: If we opened your fridge right now, what would we find in there?
Shanley: Avocado, oranges, leftover Pad Thai, Chick-fil-A sweet tea, eggs... pretty boring, nothing interesting.
SK: Who would you like to meet or work with?
Shanley: Natalie Portman and Brad Pitt. I'd like to meet or work with Brad because he's brilliant and because of the work he does. I'd also like to meet Snooki to ask her about her life and what she thinks about the world, because I'm just so confused by her. I just want to see if she's really like that, or is she just playing a role?
SK: What's the best thing about being you right now?
Shanley: I'm in a place where I have a lot of different opportunities, I'm productive every day and I'm learning a lot. I get to go to school and do what I love.
Photos by Gabriel Goldberg
Watch the trailer for Detention, starring Shanley Caswell