Katy Perry's Brand Break-Up Premonition?
Katy Perry hit the nail on the head when she penned the lyrics to "Part of Me." Yet it turns out the world's latest breakup anthem was written long before the pop star's marriage to Russell Brand bit the dust!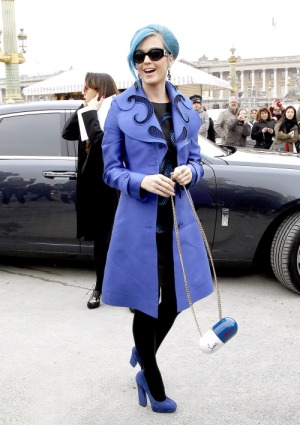 Katy Perry's "Part of Me" lyrics sound like the work of a raging broken heart. Would you believe the song wasn't actually written about the singer's ex, Russell Brand?
Katy Perry swears the breakup song, which she debuted at the 2012 Grammys just weeks after news of the couple's split broke, was actually written during happier times -- just two months after the pair exchanged vows in India.
"I wrote it two years ago, which is funny because everybody is like 'God, it sounds so current,'" Katy Perry recently explained to MTV News, adding that some suggested she play it off as a song written out of divorce angst.
"Some people that I work with were like, 'You should just say you wrote it a couple of weeks ago,'" the 27-year-old said. "I'm like, 'I'm not a d***, I'm going to tell the truth.' I wrote it two years ago when I was writing and recording Teenage Dream, [but] it didn't feel right on the record."
A look at a sampling of Katy Perry's "A Part of Me" lyrics makes it hard to believe the fiery anthem could be such a well-timed coincidence:
So you can keep the diamond ring
It don't mean nothing anyway
In fact you can keep everything, yeah, yeah
Except for me

This is the part of me
That you're never gonna ever take away from me, no

This is the part of me
That you're never gonna ever take away from me, no

Throw your sticks and your stones,
Throw your bombs and your blows,
But you're not gonna break my soul
Even Katy Perry admits the timing of the song's release is a bit eerie.
"Sometimes I'm like, 'Am I living in The Truman Show?'… What's going on?'" she said. "It just feels like sometimes I'm caught in this movie where my life is paralleling my music! It seems very serendipitous, but, as un-fun as it sounds, I prepare everything. I'm overly prepared and kind of a control freak in the best of ways."
Did you think Katy Perry's "Part of Me" lyrics were written about Russell Brand?
Image via WENN