Bash Raises Money
For Brain Research
What do you give the man who has everything on his 70th birthday? If you're a friend of Muhammad Ali, you throw a star-studded bash at the MGM Grand Garden Arena in Las Vegas.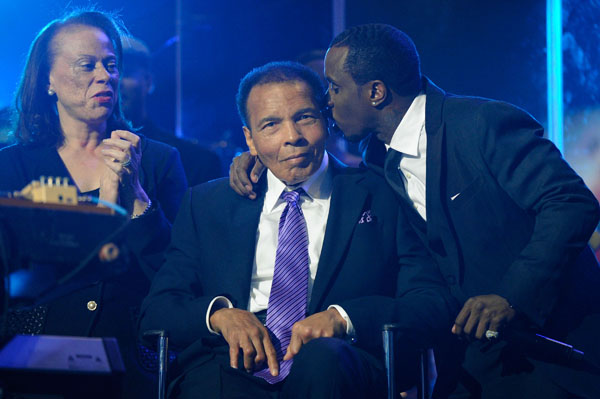 Everyone from Cindy Crawford to LL Cool J and Sugar Ray Leonard showed up at the MGM Grand Garden Arena in Las Vegas on Saturday, Feb. 18 to help iconic boxer Muhammad Ali celebrate his 70th birthday in style. The event — set for air on ESPN2 on Saturday, Feb. 25 — was part of Keep Memory Alive's annual Power of Love Gala and Fundraiser.
The sold-out audience of 2,000 dined on a meal by celebrity chefs Tom Colicchio, Scott Conant, Michael Mina and Wolfgang Puck while musicians like Lenny Kravitz, Cee Lo Green and Kelly Rowland serenaded the birthday boy with a champagne toast.
Oh, and there was an auction that featured priceless gifts like the boxing gloves Ali wore to defeat Floyd Patterson in Las Vegas back in 1965 and a vacation on David Copperfield's private island — yes, island — in the Bahamas.
Keep Memory Alive's mission is something near and dear to the champ's heart — he was diagnosed with Parkinson's Disease in 1984. Over the years, "The Greatest" boxer has lost many of his motor functions and is now confined to a wheelchair.
He doesn't blame his career, though.
"If that were so, then a million people must have gotten hit in the head! Joe Frazier got hit more than me — and he doesn't have Parkinson's," he told Oprah in 2001. "Sonny Liston got hit hard, but he doesn't have it."
Regardless of how he got Parkinson's, Ali has dedicated his life to the disease by raising money for research with fundraisers and his institute in Arizona. Still, he keeps a level-head about his disease — something fans wouldn't have expected during his "float like a butterfly, sting like a bee" prime.
"I can't see what God's plan is," he told Oprah. "I just know I've got to live with it."
Images courtesy Ethan Miller/Getty Images