Upton Fronts 2012 Swimsuit Edition
Kate Upton has been revealed as the 2012 Sports Illustrated Swimsuit Issue cover model. Betcha didn't know that she's also the alleged love interest of an NFL quarterback. Plus she's got a real thing for horses.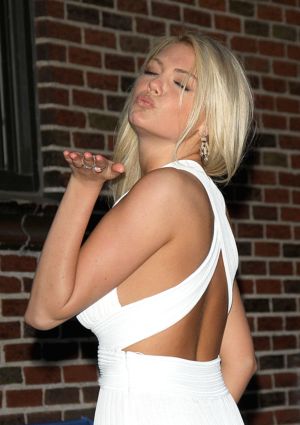 On Monday, Sports Illustrated magazine (S.I.) unveiled its annual Swimsuit Issue. The 2012 edition features teen model Kate Upton on the cover, wearing a two-toned, red string bikini… and not much else.
Happy Valentine's Day, Boys. Don't say we never gave you anything!
Kate, a 19-year-old native of Melbourne, Florida, did the honors, presenting her snapshot on the coveted cover during a taping of The Late Show with David Letterman. Keeping in line with tradition, a billboard adorned with the cover image went up on Broadway yesterday afternoon, just across the street from the New York landmark The Late Show calls home: The Ed Sullivan Theater.
Upton was joined by a beehive of Sports Illustrated hunnies-- Julie Henderson, Jessica Gomes, Ariel Meredith, Alyssa Miller, Chrissy Teigen, Genevieve Morton, Izabel Goulart and Jessica Perez. The girls chimed in with the occasional one-liner as she presented the "Top 10 Reasons This Year's Sports Illustrated Swimsuit Issue is the Best One Ever."
On Tuesday, Kate'll swing by the show again to be interviewed by Dave.
The starring spot puts the blonde bombshell in the ranks of former S.I. covergals, like Bar Refaeli, Tyra Banks, Irina Shayk and Brooklyn Decker. Translation: It's only fitting that we get to know a little bit more about young Kate.
Five Fun Facts About Kate Upton (Try to keep up… there'll be a quiz on this later):
The model parlayed her print work into a TV gig with Madison Square Garden's MSG Network, home of the NHL's New York Rangers and the NBA's New York Knicks. During the summer of 2011, Kate was tapped to host the Music Fridays concert show on the sports cable network. The new job quickly raised Upton's profile when a YouTube video of her dancing to Cali Swag District's 2010 smash, "Teach me How to Dougie," went viral.
Kate made her Sports Illustrated debut on the pages of the 2011 Swimsuit Issue, in which she was named "Rookie of the Year."
"I'm a really big New York Jets fan because my sister works for them. I've learned to love the games. I watch every single one. I really enjoy it…"
Kate was previously romantically linked to hip-hopster Kanye West. In a curious case of mistaken identity, the "All of the Lights" hit-maker found himself making headlines with Upton after he was photographed tongue-wrestling with her doppelganger, French actress Virginie Maury, at the 2011 Cannes Film Festival.
She's got a bulky resume. Kate was an accomplished competitive equestrian before making the dive into modeling. She's got a role in the upcoming Farrelly brothers movie, The Three Stooges.
The 2012 Sports Illustrated Swimsuit Issue will feature 18 models and six athletes. Joining Upton and the rest of the bikini-clad ladies in this year's special edition sports bible are Olympic swimmers Natalie Coughlin and Michael Phelps, NBA ace Chris Paul, tennis pro Rafael Nadal, LPGA star Natalie Gulbis and soccer's Alex Morgan.
(All three of the female athletes are photographed in body paint… just thought we'd mention it.)
The Swimsuit Issue will be read by approximately 70 million adults, according to early estimates. In fact, projections suggest that one in three U.S. adults read the annual release.
The double issue is now on sale via tablet, smartphone, at newsstands and online at the Sports Illustrated website.
Photo credits: HRC/WENN.com