O, Say Can You Sing?
The national anthem is an intimidating force. It exposes bad vocals, tests your memory and can make or break a career. Steven Tyler isn't the first singer to flub the song. There are plenty more where he came from and we've got the videos to prove it!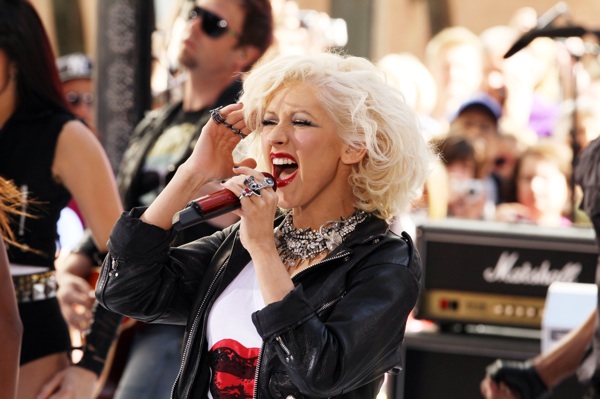 All day the internet's been buzzing with criticism of legendary rocker Steven Tyler. After performing a cringe-worthy rendition of the national anthem at Sunday's AFC championship, the singer has come under fire. But fans shouldn't be too critical because we've all seen and heard worse. He's just the latest in a long line of star-spangled fails.
Here are five of the most disturbing attempts at our national anthem.
R. Kelly
In 2005, R. Kelly channeled his inner Marvin Gaye (who famously remixed the national anthem for 1983's NBA All-Star game) for a boxing match between Bernard Hopkins and Jermain Taylor. The crooner desperately tried to give viewers a rendition of "The Star-Spangled Banner" they'd never forget. Unfortunately, he chopped and rearranged the song so much it was unrecognizable.
Christina Aguilera
It's no secret that Christina Aguilera has a big voice. During the late '90s, she was one of the few pop stars who could actually carry a note. But when she performed for last year's Super Bowl audience, her talent took a backseat. Not only did Aguilera forget the anthem lyrics, she changed them. She replaced, "What so proudly we hailed at the twilight's last gleaming" with "What so proudly we watched at the twilight's last gleaming." Say what, Christina?
Roseanne Barr
This pick is self-explanatory. Roseanne Barr is no Whitney Houston, yet that didn't stop her from singing at a San Diego Padres game. She got in front of the crowd and let it all hang out. If nails on a chalkboard mated with a foghorn, this performance would be their lovechild.
Kat DeLuna
Apparently, Kat DeLuna believed that the national anthem needed more oomph. When she stepped to the mic in 2008, the singer tried her best to put her stamp on the classic. But fans weren't receptive to her over-the-top antics and she was met with more boos than cheers. She should have kept it traditional.
Chattanooga police officer
Celebrities aren't the only ones guilty of bad performances. A Chattanooga police officer sang the anthem (terribly) during the memorial of a fellow officer. This man could give Roseanne a run for her money. Not only was he off-key, but he was extremely flat. The only entertaining thing about this video are the reaction shots.
What's the worst national anthem you've ever seen/heard?
Photo credit: PNP/WENN