Favorite Style Moments With The Duchess
Kate Middleton proved to be a style and beauty icon in 2011. From her ability to turn conservative looks into polished and modern staples, to her effortless hair and makeup, Kate Middleton set trends we all admired in 2011.
(page 5 of 5)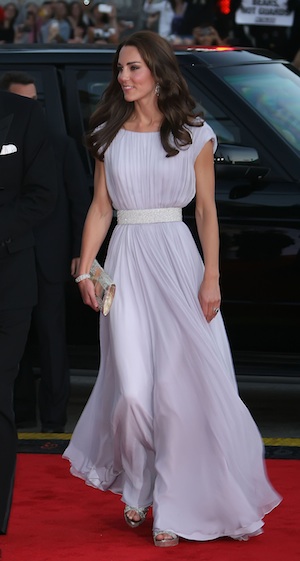 One of our favorites, Kate Middleton looked glamorous in another Alexander McQueen gown when she visited Los Angeles in July 2011.
The Duchess of Cambridge looked truly regal as she attended BAFTA's "Brits to Watch" awards held at the Belasco Theatre in downtown Los Angeles.
Paired with Jimmy Choo "Vamp Glitter" sandals and a Jimmy Choo "Ubai" clutch, this was one of Kate's more expensive looks of the year.
Middleton's shoes retailed for over $700 and her lilac chiffon dress was paired with jewels from Prince William's grandmother, Queen Elizabeth.
While Kate certainly looked like the princess she is, fans who met Middleton that day said she was completely approachable.
Fan Caroline Bailey explained Kate seemed shy and just like a regular person. "Kate looked at me and said, 'This is so fancy, I've never been to one of these before.' She was in awe."
While Kate Middleton clearly shined as a style icon for 2011, we have no doubt she will continue her reign as both a beauty maven and trendsetter for 2012.
Photo: Adriana M. Bar/WENN.com