Favorite Style Moments With The Duchess
Kate Middleton proved to be a style and beauty icon in 2011. From her ability to turn conservative looks into polished and modern staples, to her effortless hair and makeup, Kate Middleton set trends we all admired in 2011.
(page 2 of 5)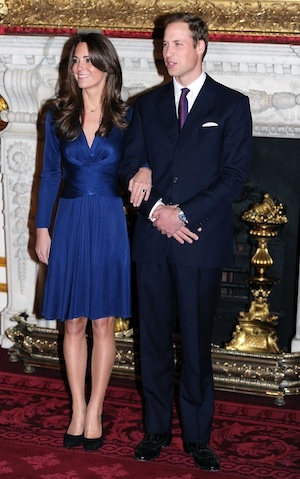 This blue, satin, A-line dress by Daniella Helayel for her label, Issa, caused a major frenzy in both the U.S. and the U.K. -- it sold out in less than 24 hours. Glamour magazine reported Kate Middleton's official engagement announcement dress retailed for $615 and was responsible for the "little blue dress" trend of 2011.
Us Magazine also reported a U.K. discount retailer, Tesco, offered a $25 version of the dress so women with less-than-royal-bank-accounts could still tap into the trend Middleton started.
Tesco's buying director, Jan Marchant, explained to Britain's The Daily Mirror, "Kate Middleton looked extremely elegant in her choice of outfit and many women will want a replica. It's very versatile -- a classic design and perfect for many occasions. We expect it to sell out fast." It did --again less than 24 hours after it was available online it was gone. Marchant explained, "The rate at which the dress sold out online is testament to how influential Kate's style choices are."
Photo: Zak Hussein/WENN.com