From Stefani
To Lady Gaga
Where did Lady Gaga get her iconic stage name? Find out the inside story behind the name that has sold millions of albums and has inspired a slew of little monsters.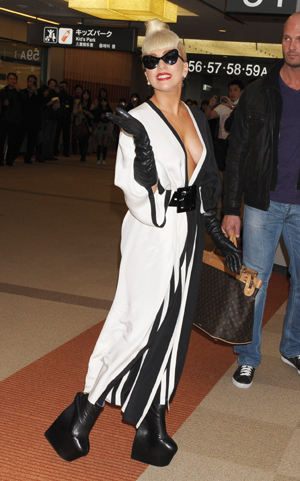 Lady Gaga was born with the name Stefani Joanne Angelina Germanotta -- so how did she get her stage name?
The singer told Flybe Magazine that music producer Rob Fusari (who also happened to be her boyfriend) was the first to call her Gaga, after the Queen song "Radio GaGa."
"He started to call me GaGa when I'd come into the studio. When we were getting ready to really start performing, I decided that I'd been playing under my real name for so long I wanted a new way to reinvent myself. So I said, what about Lady GaGa, because Gaga is sort of crazy and Lady has such connotations," she said. "I went to a private school but now I was living in this trash glitter environment. So, for me, it was the perfect description of who I had become."
Fusari, however, had a slightly different version of the story and sued Lady Gaga in 2010 for $35 million saying that he discovered her and was the one that came up with her stage name. He later dropped the lawsuit, but he claimed that he would sing the Queen song "Radio GaGa" when she entered the room because her voice reminded him of Queen lead singer Freddie Mercury.
"One day when Fusari addressed a cell phone text to Germanotta under the moniker 'Radio Gaga' his cell phone's spell check converted 'Radio' to 'Lady'. Germanotta loved it, and 'Lady Gaga' was born", the legal papers said.
The New York Post, however, offers another conspiracy theory (per Wikipedia) by claiming that Lady Gaga's stage name was actually invented in a marketing meeting.
Photo: WENN