Who Is Carla DiBello?
Tiger Woods, you're officially off the hook. Newly single sportsman Kobe Bryant is reportedly dating Carla DiBello -- one of the producers of E!'s Kardashian reality franchise -- a nanosecond after announcing his split from wife of 10 years, Vanessa.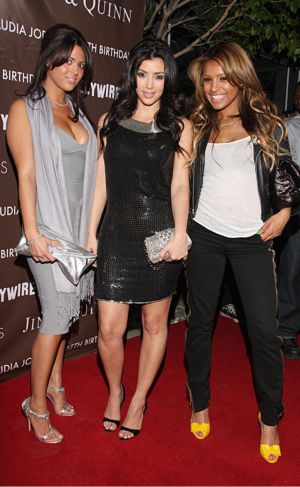 Kobe Bryant will soon be a single man (though he's reportedly been behaving like one for some time) and according to reports heating up the rumor mill, the hoopster is already dipping into the dating pool.
He's being romantically linked to one of the producers of TV's Keeping Up with the Kardashians.
Tipsters say Kobe is desperate to save his marriage and is willing to do "whatever it takes" to protect his millions ensure a reunion.
Of course, that doesn't mean he hasn't got another lass waiting in the wings.
You know, sorta like an insurance policy.
Celebrity gossips claim Kobe has been getting a bit too close for comfort to Carla DiBello (pictured far left), a 27-year-old Hollywood producer and one of Kim Kardashian's best friends. According to Radar Online, DiBello has been on close terms with the millionaire athlete for the last couple of years.
She's often spotted courtside at Lakers games.
DiBello is a producer on the E! soaps Keeping Up with the Kardashians and Kourtney and Kim Take New York. Her work often sends her globetrotting with the reality clan. She was most recently photographed during Kim's trip to Dubai.
Carla was previously director of strategic relations for SBE Group, which owns a number of exclusive hotels and clubs in Hollywood. She was also an assistant to Steve Wynn, owner of the Wynn Hotel & Casino Resort in Las Vegas.
Vanessa Bryant filed the paperwork to end her nearly 11 year marriage to the Lakers star earlier this month. The source of contention between the exes: Apparently, The Kobester has been having a tough time keeping "it" in his gym shorts.
According to TMZ, Mrs. Bryant, 29, knew that her husband had been involved with "multiple women" over the years, but a recent affair pushed her over the edge. Vanessa jumped ship on the sinking marriage after she learned of what she says is an act of infidelity that became the proverbial straw that broke the camel, according to reports.
Is Carla the other woman?
The Kobe Camp isn't talking.
In a joint statement released Friday, the couple asked that the media respect their privacy, as well as the well-being of their two young daughters, Natalia and Gianna.
"What's ironic... is that Vanessa still loves Kobe -- but she just can't stand his infidelities anymore," TMZ wrote over the weekend.
The couple does not have a prenuptial agreement. The Bryants are also residents of California, a community-property state. Translation: Vanessa is entitled to half of Kobe's empire, which is valued at somewhere between $150 million to $400 million.
Vanessa  -- who is requesting spousal support and joint custody of the children -- is being repped by celebrity divorce lawyer-to-the-stars Laura Wasser. Wasser, as you may recall, has worked out divorce settlements for everyone from Britney Spears to Christina Aguilera.
Oh yeah, that $4 million ring Kobe gave Vanessa after his 2003 rape scandal: It's all hers.
Remember, a gift is a gift.
Photo credit: WENN.com
More From SheKnows Explorer