Is House Coming
To An End?
House star Hugh Laurie says that, after eight seasons, his show may be nearing its final season.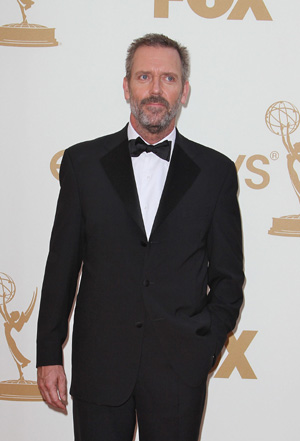 House star Hugh Laurie has been playing Dr. Gregory House in the hit show for eight seasons, however, the 52-year-old star hints that the show may be coming to an end.
"Whatever we're doing now on the show, we're doing it for its own satisfaction. I don't feel like we're struggling to prove ourselves to executives or critics," he says. "Not to be complacent about it, but I think we've moved beyond that stage and we're now in the last year maybe, or the end bit. We will have done about 180 shows by the end of this. Which is ridiculous, really. Ridiculous."
What is also pretty ridiculous is how much Laurie makes, which is $700,000 per episode, according to Wikipedia. The actor has certainly earned his stripes, winning a Golden Globe for the medical drama in 2006 and 2007, as well as the Screen Actors Guild award in 2007 and 2009.
Laurie actually lived in the Chateau Marmont during the first season of House in 2004 because he thought it would not last long. "I was so convinced the whole thing was going to fail, I couldn't contemplate committing to any long-term arrangement. I thought a hotel was a safe bet," he said.
Laurie's family lives in London while he films the show in Los Angeles. When asked if he would stay in California after the show ends, Laurie indicated that Los Angeles was growing on him. "I can certainly imagine it, in a way I couldn't have done before. It held no appeal for me before, but I do have an affection for the place now. Maybe once the show finishes, I will see it in a different way. For now, I'm in a gilded cage."
Photo: WENN