Bil Keane
Dead At Age 89
Family Circus cartoonist Bil Keane died at the age of 89 from congestive heart failure.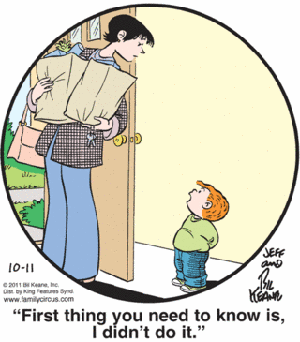 Bil Keane, who captured the heart of American families with his cartoon Family Circus, has died at the age of 89 at his Arizona home from congestive heart failure. He captured the sweet, thought-provoking and humorous moments of being a parent through his cartoon characters, Billy, Dolly, Jeffy and PJ, drawing inspiration from his own family life.
"In Roslyn, Pennsylvania, we started our real-life family circus," he writes on his website, referring to his children Neal, Glen, Christopher, Jeff and Gayle. "They provided the inspiration for my cartoons. I provided the perspiration."
Keane taught himself to draw while he was in high school in Philadelphia. He then starting working on the satire magazine The Saturday Evening Toast and it was at that time he dropped the "L" from his name Bill, just to be different, and was known as Bil Keane from then on.
Keane's distinguished career includes 60 books, 14 million Family Circus paperbacks in print and being named cartoonist of the year in 1982 by the National Cartoonists Society. The formula for his success? "I like to feel that what I'm doing portrays this: A family where there is love between mother, father and the kids," Keane said. "It's a subject that is near and dear to me."
Family Circus will not end with the death of Keane, as his son Jeff Keane has been slowly taking over his duties as the cartoonist and will continue the family legacy. "It's extremely important to me to carry on the strip as my dad would have wanted," Jeff told USA Today. "I remember when we were kids and he told us to be funny. Now with my own kids, I'm always looking for gags and taking notes. This is our family's legacy."
Photo: Bil Keane/Family Circus