Kris Jenner Didn't Know About Kim's Plans
Kris Jenner is speaking out about her daughter's divorce while promoting her new book. She told a radio station that she had no idea of her daughter's plans.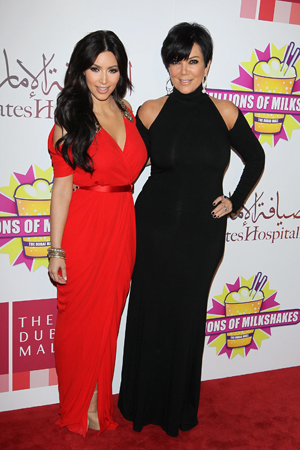 Kris Jenner had a hand in about every aspect of Kim Kardashian's marriage to Kris Humphries — so, it only makes sense that she would have a hand in the couple's divorce after 72 days.
Not so fast. Jenner was on the syndicated Johnjay and Rich in the Morning radio show Tuesday morning to promote her new memoir and told the hosts that she had no idea Kim was filing for divorce.
"I want to make sure she's okay today," Kim's mom said.
"Kim had to make a very difficult decision and she needed to do that on her own," Jenner said. "She's not a five-year-old, she's 30 and is a grown woman and needs my support at this time."
Jenner added that she's not sure what anyone else in the family, like Khloe Kardashian and Kourtney Kardashian, knew about Kim's decision or how long they knew. However, she doesn't want to stress her daughter with questions right now.
"I met and married Bruce in five months," Jenner said, regarding whether or not Kim should have sought marriage counseling. "It's 20 years later and we're still going strong." She added that she's obviously into marriage for the long haul, but doesn't want to speculate about her daughter's decisions.
"Kim has the most amazing heart and I have to trust she knows what she's doing."
"She's not the first person in the world to get a divorce and she won't be the last," Jenner said. However, there is one rumor she wants put to rest: She claims Kim wasn't paid for the wedding and actually spent millions on it.
"That couldn't be further from the truth," Jenner said. "No one's doing anything crazy. I feel bad for the kids."
As for the gifts? Jenner assumes they'll go to various charities.
Her parting words of wisdom? "I always tell my children to be true to themselves and that's what makes our show so successful. We've always showed our true colors and people need to stop judging."
We don't think that'll be happening anytime soon.
Also, the lightning-fast Taiwanese news team Next Media Animation just released their animated take on Kim Kardashian's divorce. It's pretty hilarious.
Image courtesy WENN
What do you think of Kris Jenner's explanation: plausible or a cover-up?
Read on for more Kim Kardashian
Kim Kardashian and Kris Humphries divorce: The shortest celebrity marriage?
Kim Kardashian's divorce: Who gets what?
Kardashians insult Michelle Obama's wardrobe