More Jersey Drama
The third season of the Real Housewives of New Jersey might be over, but it doesn't mean that the drama is done.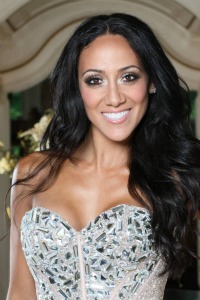 While their reunion show last week was one of the most explosive yet in the history of the Bravo Housewives franchise, it looks like there still is a lot of unfinished business with the five women from Franklin Lanes. Real Housewives of New Jersey star Melissa Gorga has recently opened up about her feud with her cast mate and sister-in-law Teresa Giudice, her kids being on the show and her future plans.
Gorga, who is married to Giudice's brother Joe, hasn't had an easy relationship with her famous sister-in-law and says that the on-screen drama during the filming of RHONJ hasn't helped their situation, either. Gorga says that she tries to stay away from Giudice's path and that it is important for her to shield her three young children, Antonia, 6, Gino, 4, and Joey, 1, from their aunt.
"You try to cover it up as much as you can and for as long as you can," Gorga tells HollyBaby. "There's no reason why a young child should see their aunts or uncles or any grown adults not being able to get along. They just want to love their aunts. They want to love their uncles. So to bring them in is selfish and it's mean. Just to make them side with you, it's terrible."
Gorga, who aspires to be the next Britney Spears with her singing career, also says that while she tries to maintain her hectic schedule with her home life, it is difficult trying to juggle the two at the same time. She says that even though she has no cooks, nannies, or housekeepers to help her around the house, "Now I have to take myself away sometimes and have a babysitter step in. It's hard to let go because I want to be there for every single thing."
As far as her future plans, Gorga is concentrating on her music career while her single, On Display, climbs the dance charts. As far as adding more children to her family, she says that part of her life is done. She says, "I've always said I wanted three children. That was my number whether they were three girls, three boys. I have the boys, I have my one little princess, so I'm happy."
Image courtesy MelissaGorga.com