Kirsten Dunst Smiles Demurely For R.E.M.
R.E.M. frontman Michael Stipe snagged big screen darling Kirsten Dunst and Dial-A-Poem artist/poet/activist John Giorno to star in two new alternative videos.
With R.E.M. calling it quits after releasing their final album on Nov. 15, Michael Stipe and co-director Dominic DeJoseph have created two new videos for "We All Go Back to Where We Belong," -- one of the three new tracks on R.E.M.'s upcoming final album -- a best of retrospective titled Part Lies, Part Heart, Part Truth, Part Garbage, 1982 – 2011. Kirsten Dunst and John Giorno are the solo subjects of the moody, black and white films and SheKnows has both videos here.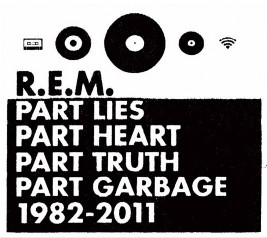 Disc 1:
Gardening At Night
Radio Free Europe
Talk About The Passion
Sitting Still
So. Central Rain
(Don't Go Back To) Rockville
Driver 8
Life And How To Live It
Begin The Begin
Fall On Me
Finest Worksongs
It's The End Of The World As We Know It (And I Feel Fine)
The One I Love
Stand
Pop Song 89
Get Up
Orange Crush
Losing My Religion
Country Feedback
Shiny Happy People
Disc 2:
The Sidewinder Sleeps Tonite
Everybody Hurts
Man On The Moon
Nightswimming
What's The Frequency, Kenneth?
New Test Leper
Electrolite
At My Most Beautiful
The Great Beyond
Imitation Of Life
Bad Day
Leaving New York
Living Well Is The Best Revenge
Supernatural Superserious
ÜBerlin
Oh My Heart
Alligator_Aviator_Autopilot_Antimatter
A Month of Saturdays
We All Go Back To Where We Belong
Hallelujah
Images: R.E.M./Warner Bros