France Is Preparing
For Its First Baby
It looks like France's most famous model-turned-First Lady will finally be able to have that cigarette break she's been craving.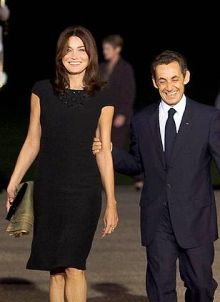 The First Lady of France, Carla Bruni-Sarkozy is expected to give birth today, according to the French media. Reports say that the expectant mother has checked into a Paris-area hospital.
France's Le Figaro newspaper confirms that a very-pregnant Bruni-Sarkozy checked in to the La Muette clinic in Paris on Wednesday afternoon.
According to a medical source at the clinic, the former Victoria's Secret model is expected to give birth within the next several hours.
Bruni-Sarkozy, who is married to French President Nicolas Sarkozy, made headlines just last month when she confessed that she was craving cigarettes and alcohol and that she couldn't wait until her pregnancy was finally over.
The mom-to-be told the New Zealand Herald: "Quite frankly, I can't stand it anymore. I spend most of my time either sitting down or lying down. I can't drink or smoke any more. I'm in a hurry to get it over with."
Bruni-Sarkozy also said in an interview with BBC Radio that her pregnancy hasn't made the same headlines in France as it has in the United States and elsewhere, saying that the people of France simply don't care about pregnant celebrities.
"There isn't much to say. So many women are expecting children and giving birth, and it's so uninteresting for French people," she said.
Bruni-Sarkozy also said that despite being in the public eye, she plans on shielding her child from the media while her husband is in office. She also has a 10-year-old son, Aurélien Enthoven from a previous relationship.
Image Courtesy WENN.com