Mara's Vogue Cover
The Girl with the Dragon Tattoo star Rooney Mara looks fierce and fabulous on the cover of the November issue of Vogue.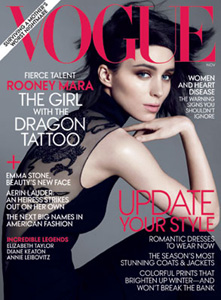 Rooney Mara may be playing the androgynous character Lisbeth Salander in the anticipated film, The Girl with the Dragon Tattoo, but she glams it up on the cover of the November issue of Vogue. Wearing a sheer black Ralph Lauren gown with a dragon on the back, she almost looks like an edgy Keira Knightley.
Mara opens up about her upcoming role in the anticipated movie co-starring Daniel Craig, and admits to feeling a bit vulnerable when thinking about the fame and exposure that this role could bring her.
"Where do I go from here?" she ponders. "I've been trying to really live in the moment because I will never get this part of it back. As soon as the movie comes out, everyone will turn it into what they believe it is, so I've really been trying to appreciate every minute of now. Because I know what's coming."
Rooney, 26, says that the role was so great she couldn't turn it down. "That kind of fame is not something I ever wanted for myself. It just so happens that this huge, gigantic monster of a film came around that also happens to have the most incredible character that I ever could have dreamed up."
Director David Fincher said they auditioned some great actresses before realizing that Rooney was the perfect person to play Salander. "Look, we saw some amazing people. Scarlett Johansson was great. It was a great audition, I'm telling you. But the thing with Scarlett is, you can't wait for her to take her clothes off." said Fincher. "There were all these different versions of Salander, but the one that had the most layers was Rooney's. I kept coming back to this."
Photo credit: Vogue