Over 400 Attend Event For Family And Friends
Over 400 family and friends attended the private memorial for silver screen legend Elizabeth Taylor. Held six months after her death, the event took place on the Warner Bros. lot where Taylor had worked for many years as a young actress.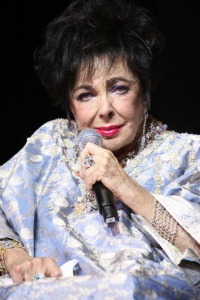 It was a night to remember the life and legend that was one of the silver screen's brightest star, Elizabeth Taylor.
Nearly six months after her untimely death, Taylor was remembered by friends and family in a memorial fit for the movie queen she was.
Hosted by friend Colin Farrell, the service opened up with Taylor's grandson Rhys Tivey playing a rendition of "Amazing Grace" on the trumpet -- a song Taylor adored.
Actor Sir Michael Caine spoke fondly of his longtime friend, as did her stepdaughter Kate Burton. The evening closed with family friend Sir Elton John's rendition of his hit "Blue Eyes," dedicated to Taylor.
Also in the audience were Martin Landau, longtime hairdresser Jose Eber and sons Michael and Christopher Wilding.
Director Mike Nichols did his tribute via video and talked at length about Taylor's work during her Oscar-winning performance in the film Who's Afraid of Virginia Woolf? Landau relayed the tribute to a New York Daily News reporter stating, "He said [during filming] she had this lengthy monologue and she was nervous but it was going very well, until one of the electricians up on a catwalk started to snore. It got to a point where he had to cut the scene and the first thing Taylor said was, 'Don't fire him!'"
In a statement, son Michael Wilding honored his mother by saying, "My mother was an extraordinary woman whose life touched so many, most of whom we will never know. Our whole family is extremely proud of her accomplishments and know what a unique and special experience it was to have her in our lives. Today it was especially meaningful for us to be with so many good friends to celebrate her spirit, which will be with us forever."
Photo Credit: WENN