Ricky Martin Tweets To Zachary Quinto
Zachary Quinto is "in awe" of the support he's received worldwide after coming out as a gay man.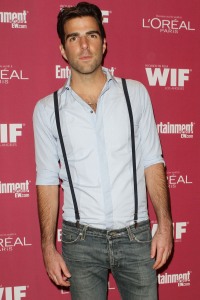 Zachary Quinto's decision to speak publicly about being gay was born out of "indescribable despair" he felt after the tragic suicide of bullied gay teenager Jamey Rodemeyer last month.
Happily, the reaction to his coming out has been more positive than Zachary Quinto could have imagined. Late Sunday night the actor shared on his official Twitter page, "I have spent the day in awe of this outpouring of support and resonance. We. Are. In. This. Together. Never forget! I am deeply moved."
Among those sharing words of encouragement with Quinto was singer Ricky Martin, who famously came out in 2010 after years of speculation about his sexuality. The 39-year-old, who now lives openly gay and is the father of twin boys, tweeted Sunday, "Congratulations! What an important step! Much peace!"
On Sunday, the What's Your Number actor blogged about his decision to come out in hopes of helping others struggling to do the same. Zachary Quinto wrote "...in light of jamey's death -- it became clear to me in an instant that living a gay life without publicly acknowledging it -- is simply not enough to make any significant contribution to the immense work that lies ahead on the road to complete equality. Our society needs to recognize the unstoppable momentum toward unequivocal civil equality for every gay, lesbian, bisexual and transgendered citizen of this country."
He continued, "i believe in the power of intention to change the landscape of our society -- and it is my intention to live an authentic life of compassion and integrity and action," he continued. "jamey rodemeyer's life changed mine. and while his death only makes me wish that i had done this sooner -- i am eternally grateful to him for being the catalyst for change within me."
Image via WENN