Sneak Peek:
Kellie Pickler On 90210
We know Kellie Pickler can sing – but can she act? Check out this sneak peek of the country singer on an upcoming 90210 episode.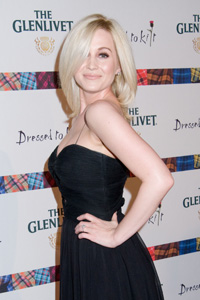 Kellie Pickler is now an actress, ya'll! The American Idol alum is trying out her acting chops on the hit CW show, 90210. If Carrie Underwood can do it, why can't she?
Pickler is essentially playing herself on the show, as Sally -- a country singer who is the cousin of Austin (Justin Deeley). Her appearance also just so happens to coincide with the release of her new single, Tough, which she performs on the show. Pickler's character performs during a talent show to raise money for cancer treatment for Manish Dayal's character, Raj.
"Had a blast filming with the cast of 90210!! So exciting!!!" Pickler recently tweeted.
She continued to gush about her acting role, saying that "everyone was so welcoming."
Don't worry, Pickler fans, she doesn't plan on quitting her day job. "I enjoyed stepping out of my comfort zone and I'd love to do it again, but at the end of the day, I want to be on the radio," she says.
Pickler rose to fame after making it to the top six of American Idol's fifth season. Raised in rural North Carolina, the singer won audiences over with her Southern charm and went on to win three Country Music Awards. She married songwriter Kyle Jacobs in January of this year.
The show also plans on bringing another country singer on the show later in the season – Billy Ray Cyrus, who will be playing Austin's dad.
Photo: WENN
Watch Pickler's 90210 debut on the CW on October 18th.