Blue Or Pink For
Hilary Duff?
Hilary Duff made an appearance on The Ellen DeGeneres Show and revealed her big baby news!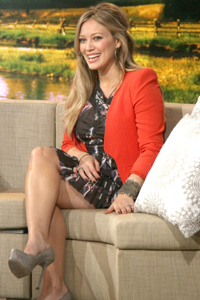 Hilary Duff is pregnant with her first child (with her hockey player husband Mike Comrie), and she revealed the baby's gender on Friday during an appearance on The Ellen DeGeneres Show. Wearing short shorts and a sparkly vest, Duff said she is "a little over four months" along and couldn't wait to share the baby news.
"I haven't told anyone yet, I wanted to tell you first. I just found out," the former Lizzie McGuire star said. "It's a boy! I had a feeling it was a boy the whole time."
The sex of her baby wasn't the only thing Duff, 24, was sharing. She revealed how she told her hubby they were going to be parents.
"My husband makes this joke that I think I'm pregnant like 12 times a year," she said. So when it actually happened, he was in the shower. I just ran in and he was in the shower and I just held up the test and I was like, 'Oh my god.'"
She said the moment quickly went from funny to emotional. "He was like, 'AHH!' He was soaking wet. We were just like a mess and started crying. It was really exciting!"
The busy mom-to-be is promoting her new book, Devoted, but says that overall she has had an easy pregnancy. "I feel great, actually. It's been super easy," but shares that it does feel "kind of like a little alien has taken over your body. You just don't quite feel normal. But it's cool."
Photo: WENN