It Was All About Deena And Snooki's Misadventures
The latest episode of Jersey Shore titled Meatball Mashup has to go down as one of the most uncomfortable episodes ever! That's saying something for a show that has a habit of making viewers squirm at least once every week.
The gang from Jersey Shore had a weekend off and where else to spend it but at the beach! Riccione beach provided a place for the gang to get away from the issues that have plagued them this season, but it also brought a whole new set of problems for the cast, as they had to deal with a situation that let's just say, even brought the guys to a new level of discomfort.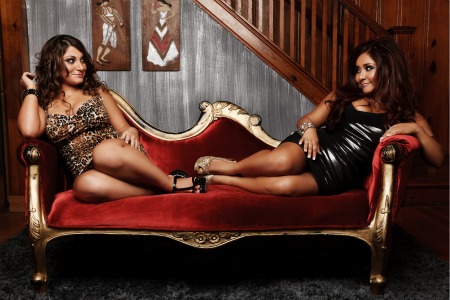 Everyone's packed and ready to go party for the weekend, their rented Fiat's bursting at the seams with way too much luggage for only 24 hours away from the villa. But first, Snooki had to make her daily call to Jionni and it didn't go as well as she planned. The two fought, he told her he wouldn't be visiting her in Italy and Snooki hung up feeling she needed to party hard in order to forget what happened between them.
Missed last week's episode? Catch the recap here>>
The girls hit the beach and the guys the boardwalk, to find some fun. While the guys had lunch and acted like respectable gentlemen, the girls hit the bars and started drinking. But after a few shots, Sammi and Jenni had enough, and wanted to go to the beach. Snooki and Deena made the choice to get smashed and party. Sammi and Jenni ditched the girls, who were clearly intoxicated, and went shopping instead.
The latest Snooki news is right after the jump>>
Later, the friends got dressed and went out to eat, telling Deena and Snooki to meet them at the restaurant before they went to the club. The two self-proclaimed "meatballs", still drunk, showed up two hours late to dinner. At the club, they danced and partied harder. Deena was so drunk she forgot to wear her "underwears" as she calls them, and showed her kooka (vagina) to everyone in the club during a dance in front of a glass wall.
The night came to an uncomfortable end for everyone except Deena and Snooki when Jenni screamed at them she didn't want to be their mother anymore and that they ruined the night. Deena and Snooki, blissfully intoxicated to the point of being dangerous, were so involved in kissing each other for a record three hours, they couldn't have cared less what anyone else said. The big question that night was, did they hook up or not?
The next morning, Deena and Snooki, badly hung over, had no recollection about what happened the night before. Snooki confessed to Jionni what happened and surprisingly, he was fine with the situation between his girlfriend and her girlfriend.
Snooki and Deena decided to try and make it a clean day, and headed out to the gym with Snooki behind the wheel. She soon rear-ended a police car and while a crying Deena pleaded for the guys to find her license in the house and bring it to her, Snooki was hauled off to jail.
And how was your week?
Photo Credit: MTV