(page 2 of 2)
How many do you remember?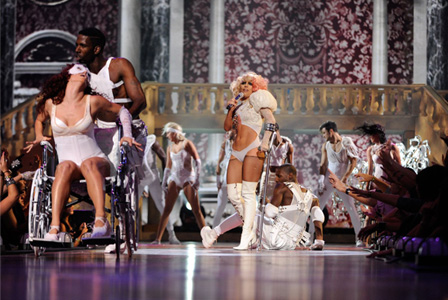 Of all the awards shows on television, there isn't one more hotly anticipated than the MTV Video Music Awards. There are always epic performances on board and this year is no exception -- but remembering past performances is fun too!
Best of the vmas
We've compiled a list of the best of the best in the history of the awards. How many do you remember?
4
Lady Gaga, Paparazzi, 2009
Everyone in the know knew who Gaga was in 2009, but she was still breaking into the public consciousness. All it took was some damn good piano playing, theatrics like no other and a fake suicide at the end to have everyone talking about that girl who stole the show the next day. Her performance of Paparazzi was stunning, both visually and vocally.
3
Jon Bon Jovi and Richie Sambora, Living On A Prayer/Wanted Dead or Alive 1989
No one had ever had the nerve to do it before. The VMA's were all about big performances, so when Jon Bon Jovi and Richie Sambora walked out on the stage with just two acoustic guitars, the audience didn't know what to expect. The musical purity of two men with two guitars singing a compliation of Prayer/Wanted Dead or Alive was stunning. MTV loved it so much, they built a whole series around it: Unplugged.
2
Michael Jackson, Medley 1995
Just MJ on the stage, dancing his way through one song after another. Yes, it was all lip-synched, but the sheer joy of seeing one of the world's most iconic performers on the stage again that was thrilling to the audience. The addition of Slash to the mix didn't hurt matters either. MJ was the man who made videos popular to the masses and reinvented them along the way -- the ultimate MTV icon.

1
Madonna Like A Virgin 1984
This was the moment that had everyone talking in 1984. Everyone knew who Madonna was, but it was the risque way she pushed the envelope that had everyone in an uproar. She sashayed her way onto the VMA stage in a wedding gown, and proceeded to bump, grind, twist and twirl her way onto the top of the Video Music Award hot list. No one knew what to make of her, but they knew one thing: She was a star!
Photo credits: PictureGroup/MTV